After the success of the recent MVM Subscription Contest, I am excited to offer another great prize: a free copy ($30 value) of the new climbing movie Spray. Thanks to Brian Solano for donating this great prize. You can order your own copy or check out his other work by visiting his website. I will have a review of the movie up as soon as I get a chance to watch it, but until then here is a brief synopsis:
To appreciate the spirit of climbing doesn't require practice, technical prowess, or any serious effort at all. The simple act of unencumbered movement can reveal worlds of truth to the climber with an open mind.

Joe Kinder and Chris Lindner have spent most of their lives in the fast-paced world of professional climbing. In a sport that requires endless motivation and supreme confidence, there are constant pressures and expectations that would test the moral fiber of any person. Instead, Joe and Chris have found a way to explore the clouds with their feet firmly planted in the ground.

On their most recent journey, the duo teamed up with Collette McInerney, Luke Parady, and Vanessa Compton to explore the treasures of California's coastline. Join them as they venture through the delicate beaches of Arcata, the stunning limestone of the Trinity Aretes, the historical shores of Mickey's Beach, and the alpine stone of Donner Summit. For the next hour, immerse yourself in the natural spray of the California coast.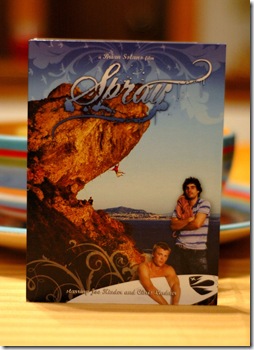 This time the method of entry will be a bit more difficult than simply leaving a comment. Hopefully the increased value of the prize will be an incentive. Here are the ways to gain an entry into the giveaway (you can have up to 2 entries):
Become a registered user at Climbingnarc.com (Free and easy) – if you are already registered then you are already in the running!
and/or
Post either a new Topic or reply to an existing Topic in the Forums. Need some ideas? How about an interesting link or video that people haven't seen much before. Or share some stories about a roadtrip you have been on or share your future plans.
The contest will be open for two weeks at which time I will be drawing the winner. Good luck!