To commemorate the upcoming 1 year anniversary of the Climbing Narcissist blog, I am holding a small and simple contest. The prize is going to be a 1 Month subscription to the Premium area of the Momentum Video Magazine which has been kindly donated by the folks at MVM. If you are not familiar with the site, check out my Initial Review as well as my Follow-up post that has an updated list of all the videos you will have access to. The list of videos exclusively in the Premium area is currently around 60.
All you have to do in order to be in the running is leave a comment on this post. You can simply say that you want in, or you can spray about what you've been up to lately. It's as simple as that. After about one week I will randomly draw a winner and they will be on their way to watching hours of quality climbing footage for the next month.
While you are here, also consider adding the Climbing Narcissist RSS Feed to your favorite reader. Visit the Subscription Page for more information on this free service.
Make sure you use your real email address when posting your comment so I know where to contact you if you win.
Here are a couple actual size screenshots to give you an idea what the Premium area looks like
Matt Wilder climbing Shadow Warrior (V12) in Yosemite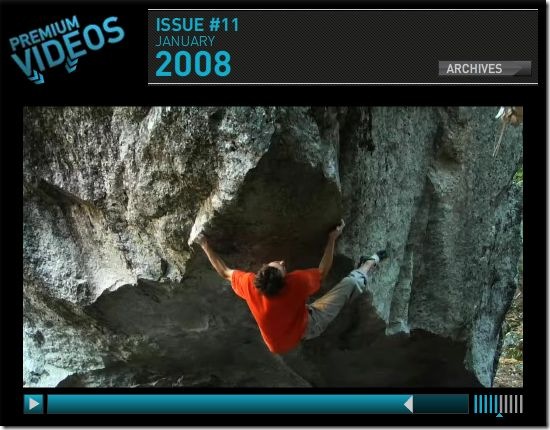 Chuck Fryberger establishing a V12 in Oman