I realize lately that I have been spending too much time blogging about myself and not enough time talking about all the action going down elsewhere so here goes nothing:
Jamie sending AKR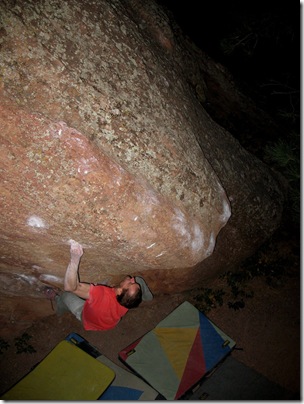 Photo: Chuffer
Since we last heard from Dave Graham, he has made his way back out west to finish off a few more lines at Rifle. He repeated Stockboy's Revenge (5.14c), did Benign Intervention (5.14b) second go and flashed Slice of Life (5.13d) .
Somewhat unheralded strongman Kevin Jorgeson, who made very short work of Ode to the Modern Man (V14) earlier this summer, recently established another heady highball boulder problem in Bishop, CA. While the V8/9 crux of the newly established Footprints is down low, the problem climbs more than 40 feet up the tenuous North Face of the Grandpa Peabody boulder at the Buttermilks. Jorgeson considered it be his first "solo" which is saying something if you have seen his other highballs like The Beautiful and Damned (V13) that made Chris Sharma retreat in fear in King Lines.
Kevin Jorgeson high up on Footprints (V9)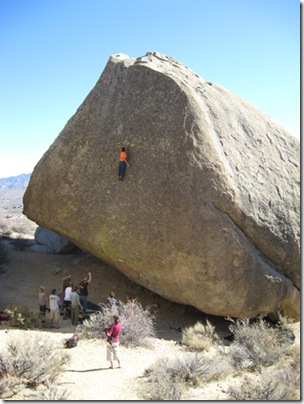 Photo: Giovanni Traversi – Climbing.com