Day 2 at HP 40 dawned to more fantastic weather. Despite the Boulderween festivities promised for later in the evening the campground didn't seem that crowded and the boulders weren't really crowded either. Despite liberal applications of various climbing salves the night before, skin was definitely going to be an issue for most on Day 2. In order to combat this, varying amounts of tape were applied to tips pre-warm up to help stave off a potentially crippling split tip.
After the usual warm-up at the Ten Pins we dispersed as we had on Day 1. I went with Nate and Kevlar to check out the problem Ring My Bell at the Front Slabs. It was cool to watch them go from not being sure how to pull of the ground, to coming up inches short of the key sloper all the way to both sticking the sloper and keeping it together for the final move to the topout. Nice work! As for me, I can't wait to get back into form so that I can put some work in on Consumption and Stepchild which are also at the front slabs….soon!
Nate making the reach on Ring My Bell (V2)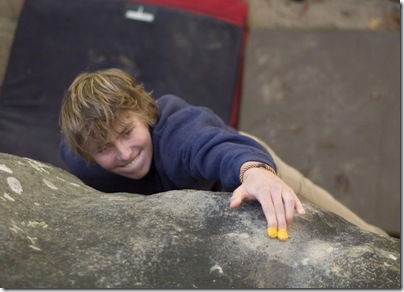 Before lunch I made another foolish decison to go and try Lou-ser (V6) a few times. I guess the reason that I keep trying this dabfest is because it is one of the few V6's at HP40 that I haven't done that actually has holds on it but frankly I question my sanity. Once established on the left hand hold I am grabbing in the picture below, the crux is to swing around and dyno with the right hand without dabbing on the boulder 3 feet behind. I guess it might feel a bit more fun if I had used my left arm for anything in the past 9 months.
I'm a Lou-ser baby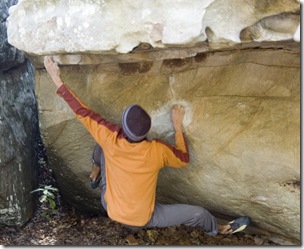 After lunch we made a quick stop by Uniball (V3?). 4 years ago when it was rated V5 I flashed it, but now that it is rated V3 none of us could even get off the ground. Go figure. The rest of the crew was nearby trying The Crown so I went over there to take a few pictures and help spot. The Crown (V3) is definitely one of the most fun problems of the grade at HP40. It involves a fun and committing move to slap for a crown shaped sloper at the top of the boulder. Unfortunately the sun was in full effect which made taking good pictures difficult. Instead, here is a picture of Kevlar on a neighboring V2 that is also quite fun.
Kevlar on Wa Wa Wa (V2)
After a bit more messing around we took a break for dinner and watched people get setup for the Boulderween party taking place later in the evening. For various reasons we ended up not participating in the event itself, but it looked like a lot of fun.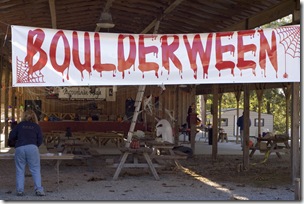 Side Note: Mrs. Narc had a very tough weekend due to her badly sprained ankle that she suffered one week earlier. She showed incredible restraint to not even attempt climbing, something I can't say that I would have been able to do. Don't worry Am, you'll be better before you know it!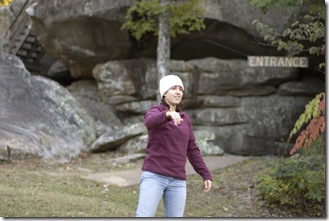 Once darkness descended we made our way out for one last session that ended up being a lot more fun in theory than in practice. A couple of us had our eyes set on a few problems behind the stage like I Hate Cops (V5) along with the problems next to it. Unfortunately, scary topouts and hard moves forced us to leave that area empty handed. With our time winding down we watched the kids get thrashed on Turtle Head and Danny and I did a few nighttime laps on Bum Boy and Genesis to wrap up the weekend.
Tony climbing Turtle Head via headlamp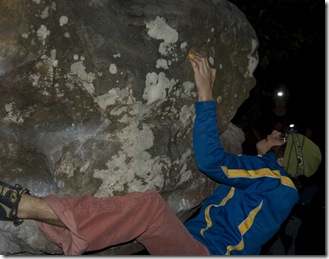 Overall it was a great trip to HP40 and it seemed like the kids had a great time. Despite punishing their tips on day 1, all of the kids put in a great effort on day 2, and they didn't let a few problems with skin keep them from pulling down hard. For me I definitely feel like I need to get much stronger before returning to HP40 again for all those projects!