If you are still wondering when the next update of MomementumVM is going to be (apparently soon?), here is something to hold you over (as long as you don't mind navigating through a site in German). The site is called http://www.rokmek.com and it features several videos of people that we don't get to see much of from American filmmakers. Featured are climbers like Dai Koyamada, Markus Bock and Bernd Zangerl.
Featured in the Dai Koyamada video is footage of him sending his proposed V15/16 problem called Hydrangea.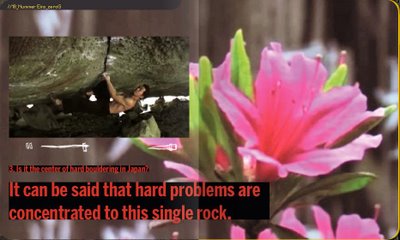 Dai Koyamada on another possible "V16" link-up?