When we did some bouldering in Yosemite last summer for our Honeymoon, I had assumed that all the bouldering had to have been tapped out. People have been climbing in the Valley for decades, how could everything not have gotten done already right? Turns out like usual, I was wrong.
The Dr. Topo guide makes mention of some new development by Matt Wilder near the Awahnee hotel, and it turns out that there has been new boulder development all over the Valley. A while back I stumbled across the BetaBase blog that has somewhat regular updates on new Valley developments. It is really cool to see that people are still able to find these classic lines where people have been climbing for over 50 years.
One explanation as to why nobody had done these lines before is because a lot of them look really hard and it looks hard to decipher the moves. This is where a guy like Randy Puro comes in. Nobody would probably even know who he is if they hadn't seen him in Dosage IV, but he has been a driving force behind many of these new FA's. The BetaBase blog has also been compiling a list of valley boulders as well. There are even some new moderate problems listed as well.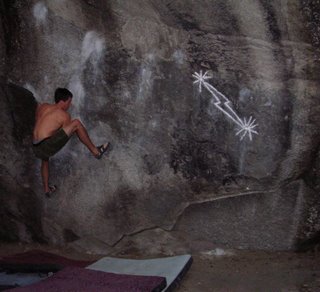 Me climbing on a secret project, don't tell anyone