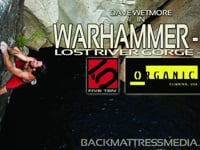 [vimeo http://vimeo.com/105618634 w=980&h=551]
| Video Source | ClimbingNarc Video Page
Dave Wetmore gets it done on his personal journey to unlock world class boulders in the White Mountains of New Hampshire. This one? A deep water solo at the Lost River Gorge dubbed the Warhammer. Brought to you by Five Ten and Organic Climbing. Check them out here:

http://fiveten.com
http://www.organicclimbing.com

MUSIC: Ornette - Crazy (Nõze Remix)

Also check out some other shtuff at my hub of all that is entertainment: http://backmattressmedia.com for some more videos, podcasts, photos and more!!
Related Videos
Posted In:
Deep Water Soloing
Climbers:
Dave Wetmore
Areas:
Lost River Gorge