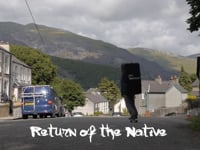 [vimeo http://vimeo.com/101695234 w=980&h=551]
| Video Source | ClimbingNarc Video Page
As a twelve year-old, Owain 'Wiz' Fineron, moved home with his family from Llanberis to New Zealand. Originally from north Wales he returned briefly this spring - the first time since leaving in 2007. Wiz was around long enough to do a bit of bouldering before heading out to Switzerland to climb Silbergeier and then on to Rocklands in South Africa. He doesn't stay still for long.

This short vid filmed while he was back in Wales features Wiz climbing a couple of classic 'Pass' 8A's: Diesel Power and Stoned Temple Pilots.

Look out for the cameo appearance of a climber with a list of bold and difficult first ascents from the eighties to his name.
Related Videos
Posted In:
Bouldering
Climbers:
Wiz Fineron