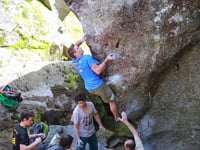 [vimeo http://vimeo.com/98128041 w=980&h=551]
| Video Source | ClimbingNarc Video Page
Melloblocco official video 2014. Mello people, Mello ambience... Mello stars!

Interviews with: Barbara Zangerl, Gabriele Moroni, Sachi Amma, Anthony Gullsten, Steve McClure, Leah Crane, Mauro Calibani, Stefan Glowacz, Melissa Le Nevé, Stefano Ghisolfi, Julia Abramchuk, Enzo Oddo and Simone Pedeferri who explains the Melloblocco map.

Music credits (in order):

"Alternative Rare Intro Bring Me To Life - Evanescence" by Mick Scissorhands (www.soundcloud.com/mick_scissorhands)

"Vultures" by Who's Panda (www.whospanda.com)

"Springish" by Gillicuddy (www.gillicuddy.com)

"Maduk ft Veela - Ghost Assassin (Hourglass Bonusmix)" by Maduk (www.soundcloud.com/madukdnb)

"Prelude No. 23" by Chris Zabriskie (www.chriszabriskie.com)

"I'm In All Over (acoustic mix)" by Mena Hardy (www.menahardy.com) & Mark Zubek (www.zeddrecords.com)

See you at Melloblocco 2015!
Related Videos
Posted In:
Bouldering
Tags:
Melloblocco
Climbers:
Anthony Gullsten
,
Barbara Zangerl
,
Enzo Oddo
,
Gabriele Moroni
,
Julia Abramchuk
,
Leah Crane
,
Mauro Calibani
,
Melissa Le Nevé
,
Sachi Amma
,
Simone Pedeferri
,
Stefan Glowacz
,
Stefano Ghisolfi
,
Steve McClure
Areas:
Val Masino