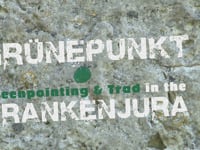 [vimeo http://vimeo.com/45444770 w=980&h=551]
| Video Source | ClimbingNarc Video Page
The term redpoint or rotpunkt originated in the Frankenjura and is now used at sport climbing crags around the world. What is meant by greenpointing a route is probably a lot less familiar to climbers. It's used on the Bavarian limestone crags to describe climbing an existing bolted route without clipping the bolts, simply relying on trad gear, such as nuts and cams, for protection.

The isn't something new to the region since the earliest greenpoints are credited to the legendary Wolfgang Güllich. More recently, however, this 'form of play' and establishing new trad protected climbs has become markedly popular with a small group of Frankenjura climbers.

Heiko Queitsch is one of the keenest proponents of this style of climbing and last year he greenpointed Chasin' the Train (UIAA 9/F7c) at Krottenseer Turm and took a similar trad approach to Kurt Albert's Magnet, Germany's first grade 9 back in 1982.

In the video, Heiko explains why he is attracted to this style of climbing against footage of Magnet, Power of Love (9-) and an attempt at a new trad route, Dragon Mouth, from May of this year. Heiko returned a couple of days later to complete the route at around E7 and F7c/+.

In November last year, Archon, a F8b trad route was climbed by Patrick Matros and repeated by Alexander Megos.

Thanks to 2rays Productions for the video and Frank Kretschmann for the additional Power of Love footage.
Related Videos
Posted In:
Traditional Climbing
Climbers:
Heiko Queitsch
Areas:
Frankenjura