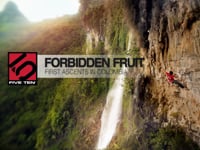 [vimeo http://vimeo.com/63341949 w=980&h=551]
| Video Source | ClimbingNarc Video Page
A van overloaded with too many people sputters and coughs as it rolls to a stop in front of an old, ill-kept hotel. Bald, hand-patched tires let out a sigh of relief as a band of American climbers tumble out of the rickety jalopy that has been their home for the last 10 hours. Overhead, two thousand feet of striped, limestone cliffs loom above dense jungle as Ben Spannuth unpacks his gear from the back of the make-shift bus.

The travel day is at an end. Tomorrow, he will explore the caves eroded into the face of the rock.

Welcome to Colombia! Follow Ben as he develops and sends new routes in the latest film by Louder Than 11, presented by FIVE TEN®.
Related Videos
Posted In:
Sport Climbing
Tags:
Featured
,
Louder Than 11
Climbers:
Ben Spannuth
Areas:
Colombia