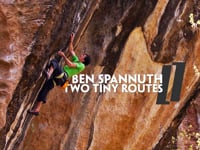 [vimeo http://vimeo.com/46124864 w=980&h=551]
| Video Source | ClimbingNarc Video Page
Ben Spannuth climbing on two American power endurance test-pieces. Ben heads to Gunnison, Colorado for the first ascent of "Cobra Strike" (5.14a), a route that Will Anglin bolted years before. Later, Ben meets up with friends in Moab, Utah for a rare repeat of the Mill Creek classic "The Bleeding" (5.14).

Produced by Louder Than Eleven

Starring
Ben Spannuth
Will Anglin

Video
Jon Glassberg

Additional Video
Caleb Justice
Pat Donahue

Edit
Jon Glassberg

Motion Design
Jordan Shipman

Music
Robert Mann - "California Dreaming"
Christian Montalbeno - "Higher Planes"
Dean Barrett - "New Wave"
Related Videos
Posted In:
Sport Climbing
Tags:
Featured
,
Louder Than 11
Climbers:
Ben Spannuth
Areas:
Hartman Rocks
,
Mill Creek