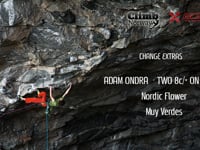 [vimeo http://vimeo.com/109956376 w=980&h=551]
| Video Source | ClimbingNarc Video Page
CHANGE MOVIE AVAILABLE HERE: http://store.payloadz.com/details/2157440-movies-and-videos-sports-change-adam-ondra-movie-2.html

Here a is small video edited from the shots, which did not find place in the final movie Change.

Adam Ondra on-sights Nordic Flower (established as 9a, today more like 8c/+) and Muy Verdes 8c/+ in Hanshelleren cave in Flatanger, Norway.


Change movie will be definitely and finally released on Sunday 26.10. 2014. For sure :-) Files are uploaded and first journalists got their copy...
Related Videos
Posted In:
Sport Climbing
Tags:
Featured
Climbers:
Adam Ondra
Areas:
Flatanger