Climbers Archives: Kati Peters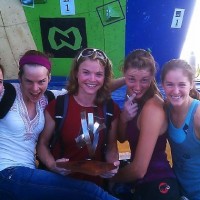 Results from the finale of the 2011 Unified Bouldering Championships Pro Tour at The North Face Open. UPDATED with more details from finals.
The World Cup wasn't the only comp taking place last weekend as a small field comprised of many of America's strongest boulderers including Daniel Woods, Paul Robinson, Sasha DiGiulian and Angie Payne turned out for the Blue Ridge Mountain Sports Boulder Bash at the Dominion Riverrock Sports Festival in Richmond, VA.