The 2014 Portland Boulder Rally went down this past Saturday night at the brand new Circuit Gym in Tigard, Oregon, and for the second straight year it was Alex Puccio and Jimmy Webb taking the title.
buy zydena online https://www.clerkenwellislingtonclinics.co.uk/wp-content/languages/themes/new/zydena.html no prescription

Leading into finals the biggest news seemed to be who wasn't going to be in finals.  Climbers like Daniel Woods, Rob D'Anastasio, Vasya Vorotnikov and Michael O'Rourke all competed on the men's side but failed to make it out of what was an extremely competitive men's field.
buy levaquin online https://www.clerkenwellislingtonclinics.co.uk/wp-content/languages/themes/new/levaquin.html no prescription

 Instead we were going to see some more unfamiliar, yet very capable, climbers with the likes of Matt Fultz, Sean Bailey and Elan Jonas-Mcrae making finals for the men and Shannon Russell joining a very tough women's field of finalists.
buy flagyl online https://www.clerkenwellislingtonclinics.co.uk/wp-content/languages/themes/new/flagyl.html no prescription

This setup an interesting final for both the men and the women, but in the end Jimmy Webb and Alex Puccio came out and blew the doors off the place with tops on all four of the finals problems – Webb flashed all four while Puccio "struggled"  in "only" flashing two of the four1 – to easily claim victory.
You can watch a full replay of finals here.  Here are the full results: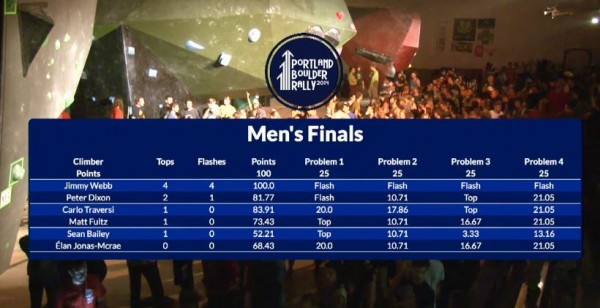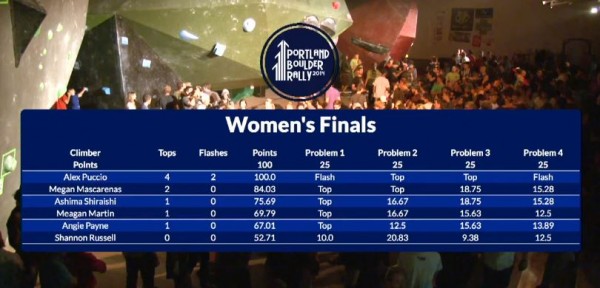 Congratulations to Jimmy Webb and Alex Puccio on their victories, and thanks again to the Circuit for having me out to this year's Portland Boulder Rally!
 She flashed all four finals problems in 2013 ↩