There are really only two words you need to know about my buddy Kevin:  Brave & Humble™.
Brave.
And Humble.
Ok, three words.
Anyway, Kevin is a regular guy with a regular job, living in the Midwest and climbing at gym where the highest acknowledged bouldering grade is V7 1.  It's well-known around the gym that Kevin is a pretty strong climber, but he keeps a relatively low profile both at the gym and on the internet 2.
Kevin has made several trips to Hueco Tanks over the course of the past few years, with much of his time spent working the Chris Sharma problem Diabolique (V13) on North Mountain.  Since Diabolique is V13 and Kevin lives and climbs in Wisconsin where there are basically no double-digit boulders to climb on, I always thought he was a bit nuts for even giving the problem a go.
As mentioned, Kevin doesn't really do the whole internet climbing thing, so I always threatened that if he were to actually send Diabolique, I would have no choice but to make him famous on the internet.   Fortunately or unfortunately for him, that day has come.
During his annual early-November pilgrimage to Hueco, Kevin managed to clean up several projects, chief among them the aforementioned Diabolique.  Here are some pictures I grabbed of Kevin on our trip last November during which he had the audacity to send none of these projects while I was there to be his personal photographer.
El Techo de los Tres Bs (V11)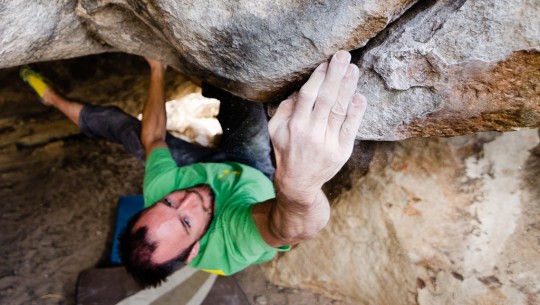 Loaded With Power (V10)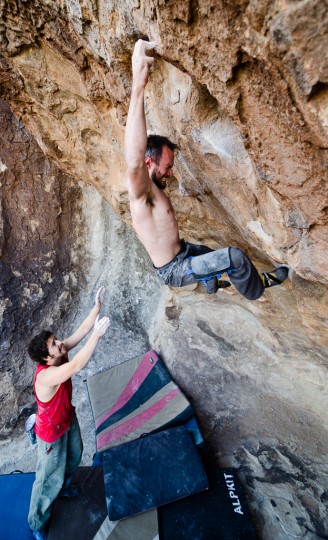 Diabolique (V13)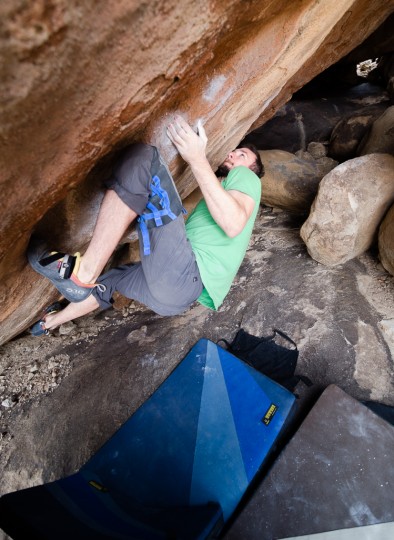 Kevin's repeat of Diabolique is almost certainly a world record for a male who lives in Wisconsin, learned to climb in Illinois, works a full-time job and mainly subsists on a steady diet of Coke.  Well done, Kevin.  Hats off to you for your dedication and unwavering positivity…now, can we go climb somewhere else next year???