It's been about three weeks now since Daniel Woods did the FA of White Noise (V15)1 in RMNP's Wild Basin.  Since putting up a V13 or harder within a two hour drive of Boulder is like putting on the bat signal in Gotham City, it should come as no surprise that White Noise has already seen two repeats.
The first repeat came at the hands of Matty Hong.  The Sheriff was at the scene to capture most of the send on video as well as to add a bit of context to the scene these days in Wild Basin.  Not far behind Hong was Dave Graham who finished up White Noise on Sunday, confirming the V15 grade for the problem.2
Click the picture for video of Dave Graham sending White Noise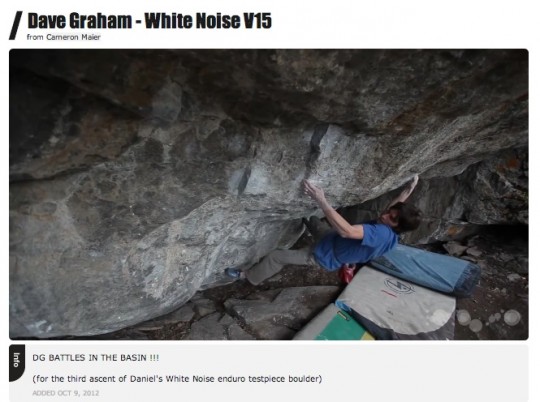 One hard problem put up in the Frontrange somewhat recently that didn't see a quick repeat was Daniel Woods' Mind To Motion (V14) at Nicky's Boulders in Estes Park.  Woods put up this problem way back in January and it waited an eternity, almost 9 months, before being repeated by Matty Hong according to the Louder Than 11 Facebook page.  You can see some footage of Hong on the problem here.
Click to see footage of Daniel Woods on his problem Mind To Motion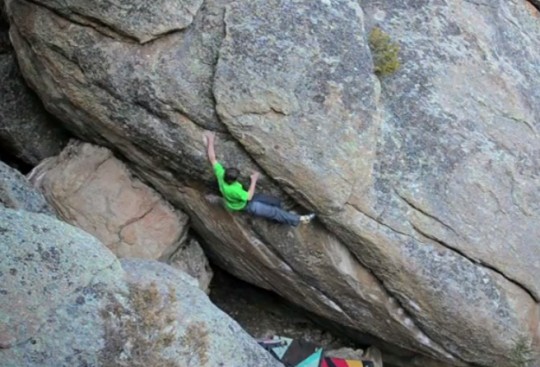 And one other noteworthy ascent on the Frontrange I forgot to mention when I initially compiled this post was that of visiting climber Mina Leslie-Wujastyk.  She ticked off Tetris (Originally V13, now maybe V12) at Wild Basin which can be seen in this video.