Conditions seem to be prime in Europe as several noteworthy bouldering repeats have gone down in the past couple of weeks.
In Austria is Paul Robinson, who is back to registering his ascents on 8a.nu.  In the past couple of weeks he has logged repeats of American Gangster (V14) and Anam Cara (V14).
Carlo Traversi has been busy in Magic Wood, Switzerland where he's repeated problems like New Base Line (V14), Remembrance Of Things Past (V14) and In Search Of Time Lost (V15).  UKC got some comments from Traversi on his recent efforts as well as his thoughts on why Daniel Woods' unrepeated problem Hypnotized Minds in RMNP is underrated in terms of being one of the hardest boulder problems in the world.
Click picture to see footage of Traversi climbing Remembrance Of Things Past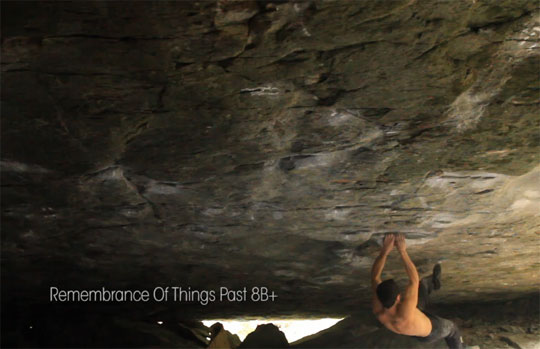 Dai Koyamada is back in Switzerland, a place where he's achieved a good amount of success on prior trips.  This time he repeated the left variation of Dave Graham's From Dirt Grows The Flowers, a V15 in Chironico.  His blog entry about the send seems to indicate that he sent quicker than he was expecting so it'll be interesting to see what else he gets done this trip.
Update – 10/23/2012 – Today Traversi repeated Sharma's V15 Practice Of The Wild, this despite having to start on wet holds.  Here's what he said on his 8a scorecard:
A perfect, pure, hard line. Sloping holds in a roof. One of my all time favorites. The first few holds were still wet, so I basically had to climb it with wet hands.