After spending the past several months jetting around the world climbing in place like Borneo, South Africa and Norway, Daniel Woods is back in the U.S.
Two weekends ago he visited Wyoming, spending Saturday at the Wild Iris attempting BJ Tilden's unrepeated route Moonshine (5.14d), Sunday doing the FA of a V11 at Devil's Kitchen in someone else's shoes because he was resting and Monday he returned to the Iris to quickly take down the 2nd ascent of Moonshine.  You can see some footage of him working that route here.
On Tuesday he drove home to Colorado where he did the first ascent of White Noise at Wild Basin in RMNP.  This proposed V15 adds a traversing V14 into a V10 finish.  Since Woods seems to have forgotten he has a blog, or he simply prefers Facebook, he took to his facebook page to talk about this problem:
I am calling the project White Noise. The holds are comfortable and the movement is some of the best I have done. It is the purest traverse I have seen meaning you cannot climb up at any point.
 Daniel Woods on White Noise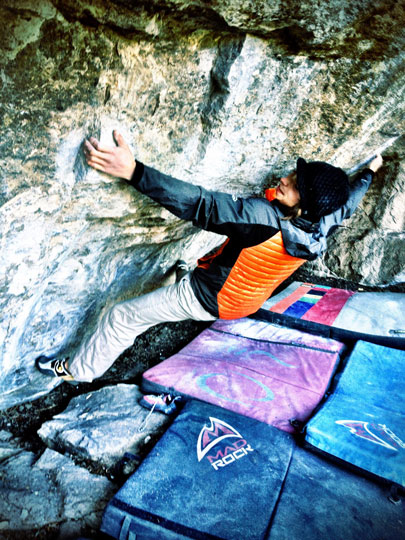 Photo by Chad Greedy from Woods' Facebook page
After a few days of rest, Woods returned this past weekend to Wyoming where he proceeded to have an incredible day at the Wild Iris, flashing Rodeo Free Europe (5.14a) and sending Throwin The Houlihan (5.14a, second try), Throwin The Houlian (low) (5.14b) and Genetic Drifter (5.14c) according to his 8a scorecard.  My fingers hurt just thinking about this…
[instagram url='http://instagram.com/p/P4pp0CGvzT' size='large' addlink='yes']