News…
On 20th December 2011, I completed a new line in Toyota, Japan.
This problem is a sit down start version of Agartha, V14, and is called Shanbara.
On this trip she has taken things to a new height by getting off the deck on some of the area's taller problems. It impresses to hear of her ascents of Mesothelioma (v7), Golden Shower (v10) and The Ninth (v6), all at The Pollen Grains (a.k.a. Lydija Boulders) in a day.
Magnus Midtbø climbed two 5.14ds in Santa Linya, Spain as 2011 came to a close with repeats of Fuck The System and Open Your Mind Direct.  Footage of the latter route can be seen here.
…and Notes…
Yeah, it was a really intense year going from a complete state of helplessness after the big accident (two broken vertebrae in my neck, fractured skull, severed vertebral artery) to taking part in a very intense and demanding Himalayan expedition
As members of the rock band The Killers, we don't usually get involved in local politics. When we learned how Red Rock Canyon is being threatened, however, we wanted to do all we could to help. Timing is urgent.
The contrast to US gyms was stark. Where a US gym is meant for fun, Polish gyms reminded me more of small training centers. Systems boards, steep bouldering caves, campus boards, and a few weights all crammed into a dark, extremely dusty little nook. Not really a place to play, but certainly a place to get extremely strong.
The 2012 Hueco Rock Rodeo fast approaches with this year's event scheduled to take place March 3rd and 4th.  This year's event, which is sponsored by adidas, features clinics, slideshows and much more.  Can anyone keep up with Daniel Woods?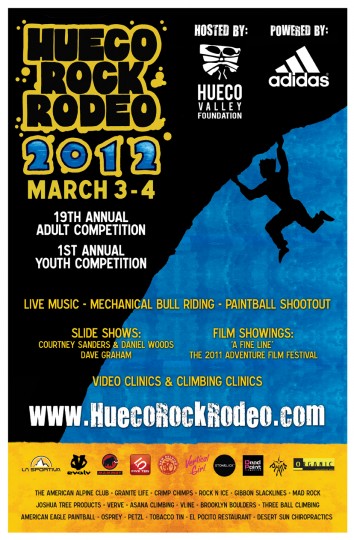 She also flashed the problem 10-10 which is listed as V10 in the guidebook but I think everyone pretty much agrees that it is not V10 any longer. ↩