Not only is it indoor comp climbing season, but in some parts of the country it's outdoor comp climbing season as well.
This weekend is the Shades Crest Showdown at Alabama's Moss Rock Preserve:
Where: Moss Rock Preserve– Hoover, Alabama

When: Saturday February 12

What: Shades Crest Showdown Bouldering Competition

Cost: $35 competitor fee

($30 pre-registration prior to event at First Avenue Rocks)

What you get?

T-Shirt (competitor only). Supplies are limited so preregister to guarantee you are in one!
Mountain High Outfitters Goodie Bag
Vendors on site with new product information and even more schwag
Lunch

WHY? Raise money for anchor replacement and repair at various Alabama and Tennessee climbing areas.

Competition details

Bouldering Competition on Saturday with registration starting at 9AM at the trail entrance. Competition from 10AM-4PM. From here we will take it over to First Avenue Rocks for the awards ceremony (directions provided at competition).

Over $2000 in prizes to be given away to top 3 in each category.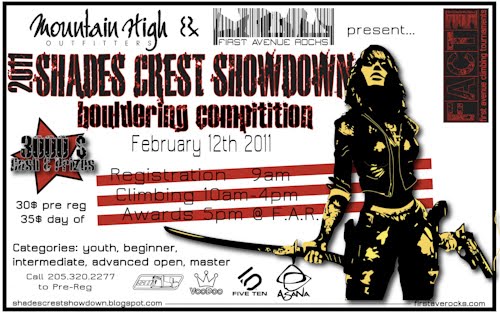 Coming up in a few weeks over the weekend of February 25th-27th is the 2011 Hueco Rock Rodeo at…Hueco Tanks near El Paso, TX:
Registration Prices:

Prior to the event:
Men: $50
Women: $35*

Day of:
Men: $65
Women: $50
*It's no secret that fewer girls register for bouldering competitions. Here at the Hueco Rock Rodeo we encourage women of all abilities to join the competition and have FUN!

What you will receive at registration:

Granit Life specialty T-shirt (Men's and Women's fits)
Scorebook and Tick List
Metolius Chalk and Tape
After comp dinner, movie screenings, live music, and party**

** 21+: $5 extra for open bar (you will receive a special wristband at check-in which you must present at the after-party for open bar)

The 18th Annual Hueco Rock Rodeo IS happening on February 26th! So bring all your friends down to El Paso, Texas for some great temps and amazing climbing! Pre-registration prices are: $50 Men and $35 for Women (girls get $15 off this year!) and Day-Of prices are: $60 Men and $50 for Women. This year's special attractions: A new 'Level Field' format that eliminates the sandbagging and gives beginners as good of a chance to walk away with ca$h and goods as the pros!  Sunday Climbing Clinics with pros like Jason Kehl, more new areas, more projects, a live band, and more food options for vegetarians, and those with food allergies. We are also showing the World Premiere of Rogue State Films' 'Reach', as well as 'CORE', a Chuck Fryberger flick.

And last, but certainly not least, is the HP Rocks comp & music festival at Alabama's Horse Pens 40 over March 4th-5th.  This year's edition of the comp will feature a visit from The North Face's Daniel Woods and (likely) some other well-known names from Evolv and Asana.  Check the comp website or the event's Facebook page for more details.
HP Rocks poster – Click to expand