It's been almost a year now since Paul Robinson did the FA of Lucid Dreaming in Bishop, CA which, at a proposed grade of V16, is a contender for one of the hardest boulder problems in the world.  Since that time Robinson graduated from college and embarked on the life of a full-time climber.  The past several months have seen him repeat some of the hardest boulder problems in Rocklands, South Africa, Ticino, Switzerland, Fontainebleau, France and even the Peak District where he made a fast ascent of The Ace (V13) during a one day excursion to the UK back in early January.
We last checked in on Robinson about a month ago shortly after he began his stay in Fontainebleau.
buy vibramycin online https://nouvita.co.uk/wp-content/themes/fing/inc/php/vibramycin.html no prescription

 Since that time he has continued working through classics like Duel (V11), Karma (V11), and Partage (V12) in addition to exploring a few projects located throughout the forest.  Most notable among his recent sends is his repeat of Trip Hop, which adds a traverse into Hip Hop Assis (V13) to yield a problem in the V15 range.
I caught up with Robinson to learn more about his new life as a full-time climber, his switch to La Sportiva, his plans for the future and his thoughts on some of the lingering questions about his ascent of Lucid Dreaming:
You've been on the road climbing full-time for almost a year now.  What's the biggest positive about living this lifestyle (other than simply being able to climb a lot) and conversely what is maybe the downside to this (if any) that you've experienced?
Being on the road full-time has been a dream come true.  I would say the biggest positive would be the people I have been able to meet and climb with along the journey, the languages I am picking up, as well as my ability to learn the nuances of each type of rock I have climbed on.  Before this trip, I was unable to climb outside as much as I would have liked to and it was hard for me to really learn a rock style before having to return to school or something like that.  I think that this increased amount of outdoor climbing has been super beneficial to my technique and overall climbing ability out on the rocks
Paul Robinson on a project in Fontainebleau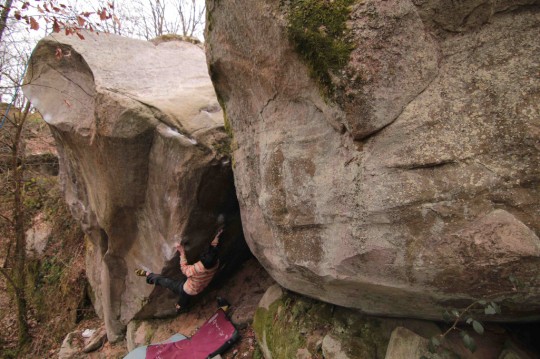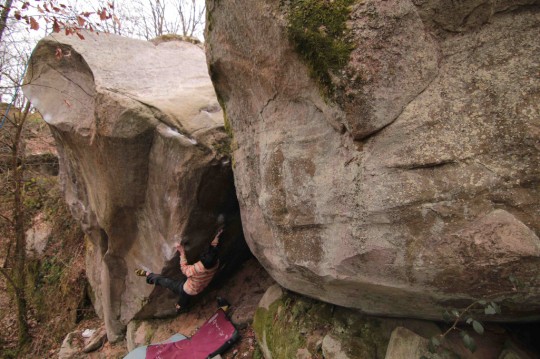 Photo:  Lucas Ménégatti
Why was it important for you to finish college before turning your attention to climbing full-time?
Climbing has been a very important part of my life, but I have always kept my life in check through my academics.  I began school way before I started climbing and for me, school was not over until I had a degree from a university.  Fortunately, I was able to attend the University of Colorado at Boulder where my climbing did not have to be smothered by academia too much.  Going to school for me was a great balance that I needed in my life.  It made me appreciate climbing so much more as well.  If I had just quit school, I don't think I would have that same level of psyche every time I go out to the boulders that I do now. Plus, I really enjoyed getting my degree in art.
buy xifaxan online https://nouvita.co.uk/wp-content/themes/fing/inc/php/xifaxan.html no prescription

 It is a really important part of the way I live my life and way of expressing myself.
The main benefit of being on the road full-time is that you can climb a lot, but there is also a lot of downtime as well.  What are some interesting things you've done on rest days that people might find interesting?
Besides practicing French, I have also been traveling a lot with my girlfriend.  Before this trip I had only been to Switzerland in Europe and now on this trip I have had the pleasure of visiting France, Italy, Netherlands, Great Britain, and Austria!  I also went to Morocco, which was great because I was able to escape the cold and snow of Switzerland.
buy synthroid online https://nouvita.co.uk/wp-content/themes/fing/inc/php/synthroid.html no prescription

 I have also been really interested in filming and editing movies.
Paul Robinson on Duel (8a) in Fontainebleau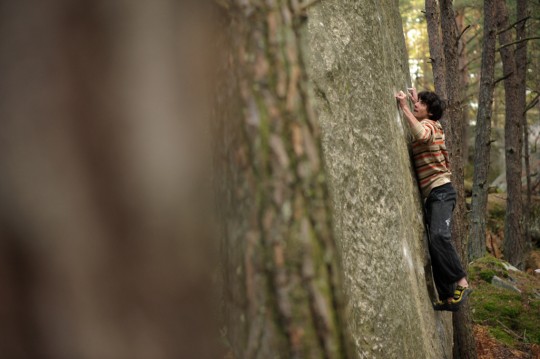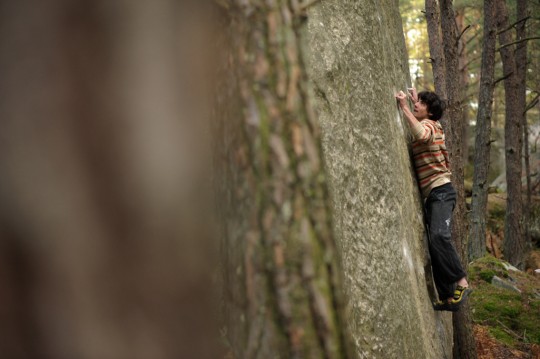 Photo:  Stephan Denys
You recently took a day trip to England to do some climbing on the gritstone.  The climbing there is known to be pretty unique so how did things go and is there an area in America that you think is similar at all?
I can't think of anywhere in the United States that really compares to the climbing on grit.  It really is a very unique rock type.  Climbing on grit was a great experience.  I picked out four climbs that I really wanted to do and had heard a lot about in the past and chose those for my target objectives for the day (Deliverance, Not To Be Taken Away, Brad Pitt, and The Ace).  I was fortunate enough to get amazing conditions and climb all of them!  I also met some amazing people and saw some beautiful English country side.
You've been having a lot of success during your stay in Font, an area with a notoriously difficult style of climbing to get used to. Are you surprised at how well things have gone?
At first I was quite surprised about how quickly I was completing some of the test pieces for the area.  I attribute this to having climbed outside for the past 6 months before arriving in Font.  The climbing in Font is very unique and it seems to fit my style pretty well.  The climbs are quite reachy, the feet are bad, and the climbing is not overly powerful.  Technique is a must and I have had the luck of being able to climb with some of Font's best, which has helped me a ton in understanding the fine details of the incredible sandstone here.
Paul Robinson on Tajine (8b) in Fontainebleau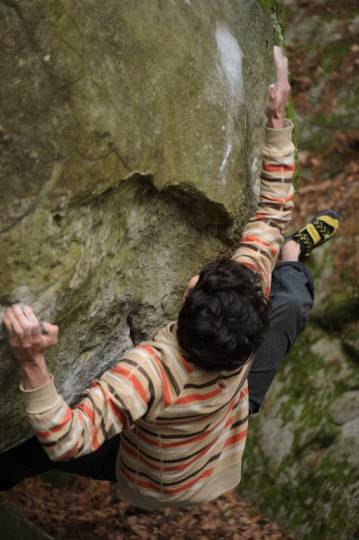 Photo:  Stephan Denys
Lately there have been some people on the comments of various websites questioning your FA of Lucid Dreaming. Is that something you are aware of or pay attention to??
I have been aware of this and have seen a few of these comments floating around on the internet.  I know that there is not much I can say or do in terms of making people believe me.  I don't want to be a part of the bashing either.  I know how well I am climbing and I also know what I have climbed.  If some anonymous people on the internet want to start some hearsay about me, so be it.  I am not going to get all hurt over it.  I am just psyched to climb and psyched to continue to push the sport of bouldering for the years to come.
Paul Robinson on The Island (8c) in Fontainebleau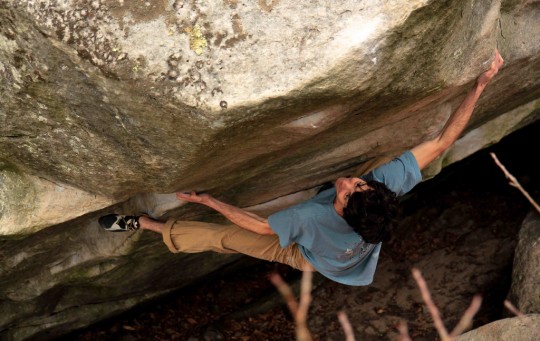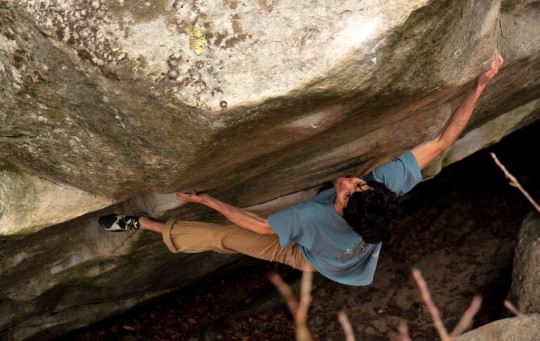 Photo:  Alex Kahn
A few weeks ago you announced the switch to La Sportiva.  Is there anything you can say about that as far as what goes into making that kind of decision from the pro climber's standpoint?
There are a lot of really great shoes on the market today.  I was really impressed by the shoes that La Sportiva had on the table for 2011, the  people at the company, and the way that they approach business.  It is an incredible company and I look forward to the years to come climbing in their shoes!
How do you see your climbing progressing over the next 2-3 years?  Will you continue to focus mainly on repeating problems or do you see yourself focusing more time on developing new areas?
I have consciously decided that I am no longer interested in repeating as much now that I am finding boulders of my own.  At the age of 23, after having repeated many amazing boulders all over the world, I feel it is my time to set a standard in bouldering and push this sport like others have before me and are doing at the moment.  My ascent of Lucid Dreaming and Ill Trill were two monumental climbs for me that have really pushed me in the direction of development.
Lately, I have found and cleaned some really great lines in the forest of Fontainebleau and hope to get the first ascent of them soon.  This is not to say that I am not at all interested in repeating, I still have high hopes for obtaining the second ascent of DW's The Game, as well as some other iconic climbs around the world that need to be repeated.  I would say the future for me is going to be about going out and finding new amazing lines to put up!
Thanks, as always, to Paul for taking the time to do this interview