One of my favorite things to do when visiting any area is to spend hours poring through the guidebook before, during and even after the trip.  Since I've probably visited Kentucky's Red River Gorge more than any other area I've spent countless hours reading through the various guidebooks over the years.  One thing that always catches my eye when reading through the RRG books has been those vaunted undone projects.  One such project that was in the book for a long time was Fifty Words For Pump (5.14c), an open project that didn't see an FA until the 2007 Petzl Roctrip came to town.  Another open project (or projects as it were) was a pair of closely spaced undone lines between God's Own Stone (5.14a) and 100 Ounces Of Gold (5.14a) at the Gold Coast which have been waiting for someone to come sort them out for many years now.
Enter Jonathan Siegrist who has done just about every 5.14 at the Red, including his recent FA of a potential 5.14d at the Chocolate Factory called Pure Imagination.  In search of another hard line to put his stamp on he ventured to the Gold Coast to check out the two undone projects there, and what he found was that  combining the two undone lines yielded, "an amazing line of barely there holds and some serious hope for what could be a free climb."
Well, where there's hope there's fire* because less than a week after starting work on the project Siegrist returned to the Gold Coast to pull off the FA of this new line calling it Twenty Four Karats at a proposed grade of 5.14c.  Writing on his excellent blog he describes the route like this:
This route is hard throughout, but a very difficult boulder problem guards the bottom third- a delicate deadpoint to a complete non-hold sloping crimp, immediately followed by a second deadpoint to a pad and a half clipping hold (quite good for this particular climb). This crux involved some serious subtlety that was especially hard to execute when coming up from the ground. From the top of the boulder problem you continue through difficult terrain featuring monos, pockets and small edges. There is essentially no resting until you reach the final bolt and finish on some easy climbing to the anchors. It's savage and brilliant.
Read the full report and check out some Keith Ladzinski photos of Siegrist on the route here.
The line of Jonathan Siegrist's new route Twenty Four Karats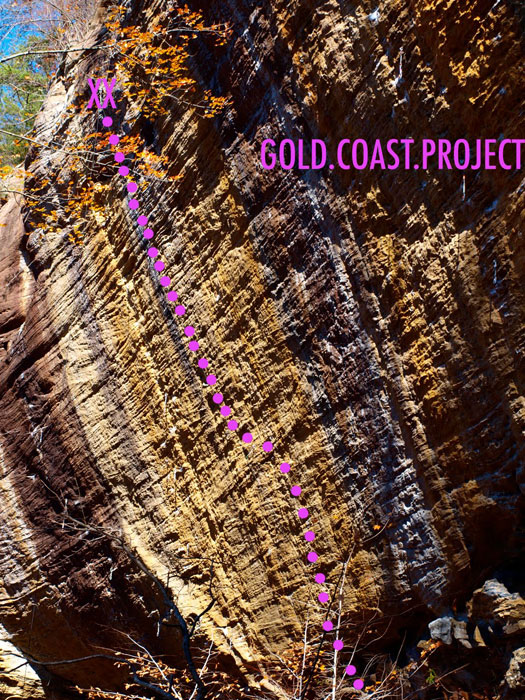 *too much of a stretch??