Back in the fall of 2008 I spent a great many days venturing out to the local bouldering areas here in Wisconsin on solo missions to what were, for the most part, deserted areas.  Up until this time in my climbing career I had always climbed with other people so I found climbing alone to be both refreshing and somewhat challenging at the same time.  Other than the obvious dangers associated with bouldering alone and the boredom of repeatedly driving 5 hours alone, I've always been someone who fed off the energy of others as I climbed.  Finding myself alone in the woods with only my thoughts and some rocks made for a unique and memorable season of climbing.
One of the strangest moments on these solo journeys came when I sent a project I'd been working towards all season.  After reaching the top there was nobody there to tag fists with or ask "how'd it feel"™ or anything like that.  A truly odd yet very rewarding experience, one which I'll remember for quite some time.  I think this quote from Blochead's blog after he had a similar experience sums things up nicely:
All alone, not a soul in sight or sound, I cheered and screamed and listened to my voice echo off the limestone walls.

Regardless of grades, of scorecards, of sandbagging or inflating and even regardless of personal blogs like this, the feeling of finishing something you have worked so hard for, and carrying that progress inside yourself is something universal to climbers of all abilities and disciplines. This is what it's all about.
Fast forward to this fall and, as usual, I haven't been climbing much due to injury.  I have, however, been slowly getting back into the swing of things, and with the end of the season fast approaching I embarked on a solo mission to Devil's Lake last week.  Conditions were unbelievable and not surprisingly I didn't encounter any climbers throughout the entire day I was there.
I spent the morning repeating some of the only sandstone boulders in the park followed by sampling a couple quartzite classics I had somehow never even seen before.  Seriously, how did I not know about these boulders 5 ft. from the trail?  Either way, I made this video of these problems just for you:
In the afternoon I made the trek to the once top-secret area known as The Reserve, an area I hadn't visited in over 10 years.  Long held as some sort of top-secret area for reasons I can't quite understand, The Reserve is a small cluster of rocks tucked away in the woods south of Devil's Lake.  In an otherwise crowded park The Reserve is a great way to find solitude and that's exactly what I found during my visit there last week.  I also found one of the best boulders I've ever seen at the Lake, Starfish (V6), that is a must do.
Starfish.  Do this climb.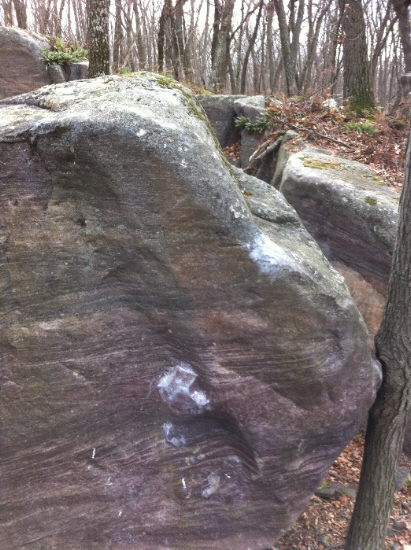 My path along the south shore of Devil's Lake starting from the west bluff, hitting the Reserve and the "Ejaculator" boulder, then heading down to the south shore parking lot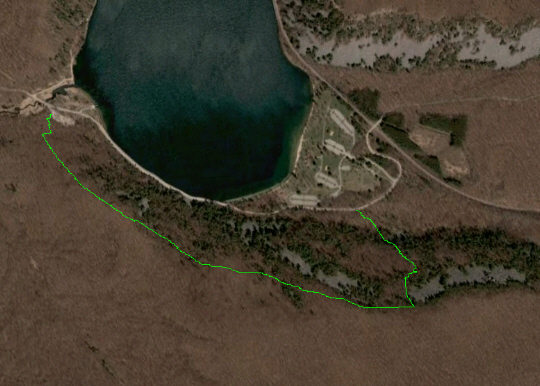 The season in the Wisconsin is definitely winding down, but it looks like there is at least a week of good conditions left to be had.  If you haven't been bouldering at Devil's Lake or Governor Dodge what are you waiting for?  Get out there!
What about you?  Do you like climbing alone or do you prefer the company of others as you throw yourself at a project??  Let me know in the comments.