I couldn't make this story up if I wanted to.  Promise.
Last weekend I was at the Red River Gorge in Kentucky and one of the nights I was catching up with some friends who, incidentally, just returned from a trip to Kalymnos which you can read about here.  Anyway, after hearing about their trip the conversation moved to other climbing topics and somehow we came upon the subject of bold routes.  Inevitably someone brought up the notoriously runout Southern Belle (5.12d R/5.11 X) on the south face of Half Dome in Yosemite as the perfect example of a mind blowingly runout climb.
At the time we were having this conversation about Southern Belle I didn't say this out loud (at least I don't think I did), but I assure you I thought it in my mind.  I wondered to myself why Alex Honnold hadn't done this route yet.  Surely if there was anyone with the experience and boldness to do a route like Southern Belle it was Honnold.  Afterall he did climb up the other side of Half Dome without a rope.
Well, it turns out I was having some sort of vision of the future because Rock & Ice is reporting that just yesterday Honnold and Will Stanhope did the 3rd ascent of Southern Belle.  No joke!  The pair worked out a few pitches before doing the route from the ground in a single push team free ascent swinging leads.  Of course climbing a route like Southern Belle isn't without its exciting moments so head over to the R&I report to read more about how things went down.
Topo showing (roughly) the line of Southern Belle on Half Dome's south face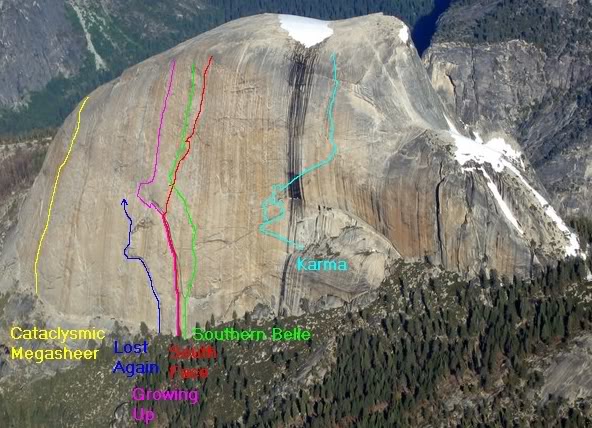 Called by SuperTopo "probably the most feared and difficult multi-pitch free climb in Yosemite (and maybe the country)", Southern Belle features 1,500 ft. of runout climbing up to 5.12d R with several pitches of 5.11 X. The line was first freed in 1988 by Dave Schultz and Scott Cosgrove and saw its first repeat in 2006 by Dean Potter and Leo Houlding.  The route's reputation as a bold testpiece only grew when Hank Caylor broke both his ankles trying to repeat it in 1994.
Update: More from James Lucas on SuperTopo
Update #2: Climbing.com interviews Honnold & Stanhope to find out a bit more about the climb