The weekend is almost here and what better way to get ready for any weekend of sitting around the house climbing than to watch a couple of videos, right?
First up is a video from Chad Greedy featuring Daniel Woods and Dave Graham doing the FA and 2nd ascent respectively of a proposed V14 at Mt. Evans' Lincoln Lake called Death Trout.  Special guest appearance by the Sheriff flashing Unshackled (V10).
Wolverine LAnd from chad greedy on Vimeo.
If bouldering isn't your thing, then maybe a little big wall sport climbing will do the trick for you.  Here is the 3rd installment from a trip Sonnie Trotter and Alex Honnold took to Mexico recently.  While there, the duo did the first one-day ascent of Logical Progression, a 28 pitch 5.13- sport route on El Gigante.
VIDEO #3: BD athletes Sonnie Trotter and Alex Honnold make one-day ascent of 28-pitch 5.13a in Mexico from Black Diamond Equipment on Vimeo.
You can see the other 2 climbing related installments from this El Gigante series on the new ClimbingNarc.com Videos page.  Check it out and let me know what you think…
VIDEOS – Just click a the preview image to watch a video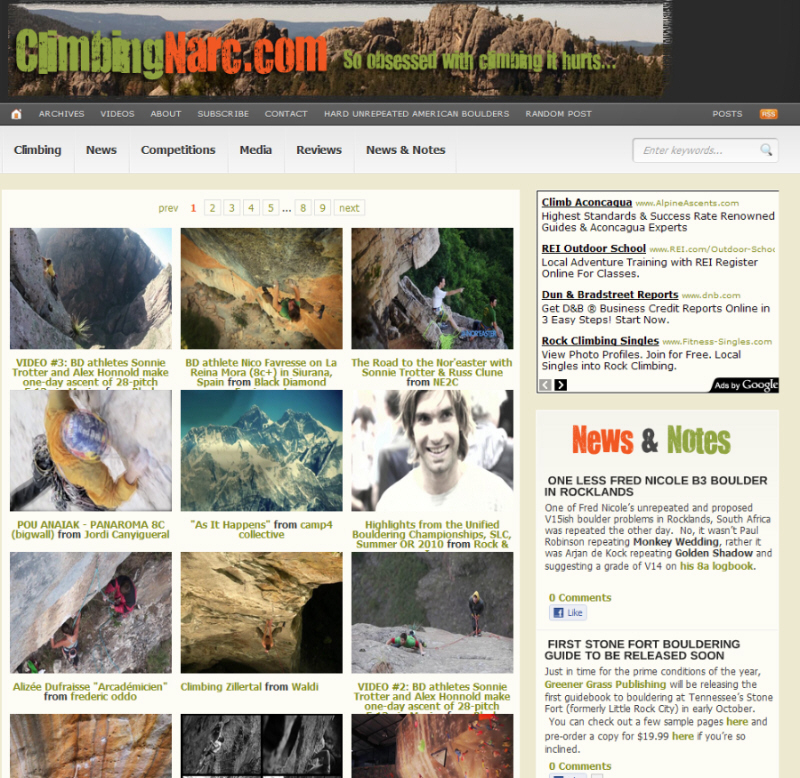 Recent videos also appear on the homepage – Just hover over the preview to find out more and to watch the video