By popular demand, here are a few more pictures from my recent trip to Hueco Tanks.  The first 3 are of a well-known problem on North Mountain, Babyface (V7), courtesy of Danielle Vennard.  For whatever reason I've always had an attachment to this problem, and it was really the only problem I wanted to be sure and send on my trip.  In a perfect world I envisioned being really fresh and flashing the problem.  I do not live in a perfect world.
By the time I finally got around to trying Babyface it was our 4th day on out of 5.  Keep in mind I hadn't climbed 4 days total in the entire month leading up to the trip.  I can honestly say that I have never felt so tired and sore before heading out for a day of climbing, but it's not every day that I'm in Hueco Tanks so I decided to make the best of the day.
Knowing I had almost no skin and barely any energy to spare, my warm up consisted mostly of walking around the boulders at the Gymnasium enjoying the view.  When everyone was ready, we made our way to Babyface where I was promptly shutdown by the very first move.  Really shutdown.
Babyface, North Mountain – Click any picture to see a larger version
After some work I figured out the first move only to keep punting trying to find the correct spot to grab the next crimp.  To me the beauty of a problem like Babyface is that you have to try from the ground on each attempt, but that also made it quite difficult to figure out the top moves given how much skin and energy it cost me each time I left the ground.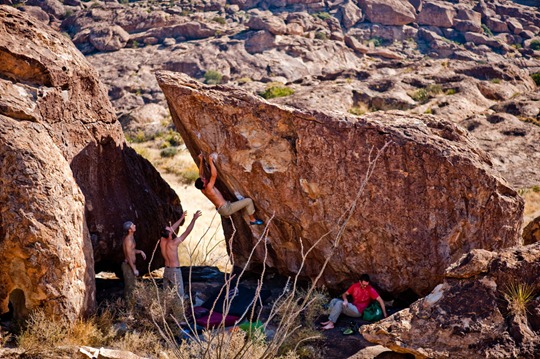 Eventually, I found the right spot to grab the right hand crimps, but I was too tired to get my feet high for a throw out left to a big jug.  Knowing that my skin was not going to last much longer on the somewhat sharp crimps I decided to get desperate serious and stop trying to get my feet up to do the last move (like I'm trying to do in the picture below).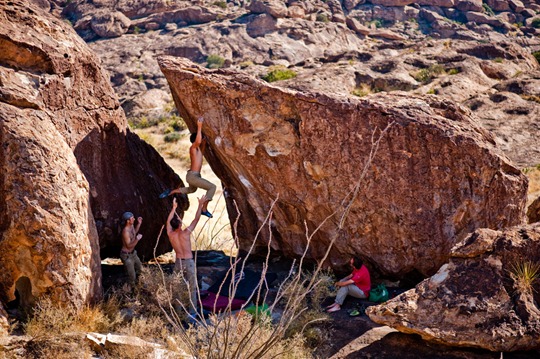 I rested long enough for my skin to stop sweating and gave a proverbial "last try".  When it came time for me to get my feet up for the last move I went for broke and jumped instead.  Somehow, I latched the big left hand hold in a helicoptering scream reminiscent of Obe Carrion in Free Hueco.  To say I was psyched would be an understatement.
After a short break I did the comparatively much easier V7 Daily Dick Dose and called it a day since it hurt to even touch rock at that point.  A day like that day really taught me a lot about what is possible even when you don't feel great physically.
Here are a few more pictures of Kevin on some Hueco classics:
The Long Haul (V8), East Spur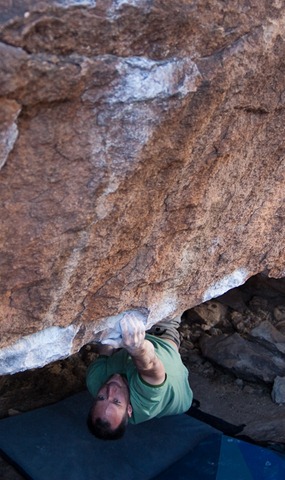 El Burro (V3), East Mountain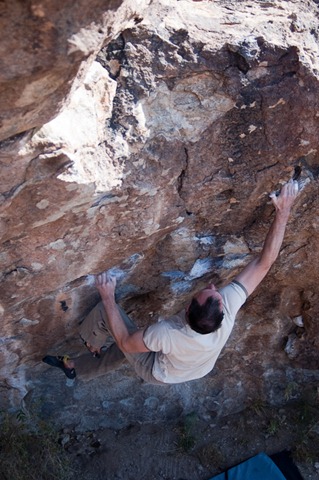 All you need to send in Hueco Tanks
Sandboarding in White Sands National Monument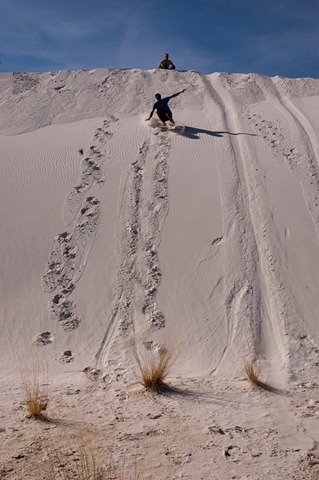 As an added bonus, here are a few pictures a reader, Stefano, sent me the other day.  They just so happen to be of a route at the Red River Gorge that I have something to say about, To Defy The Laws Of Tradition (5.10 a or b, I don't remember which).
Just about everyone I talk to thinks this route is one of the best 5.10s at the the Red, but for some reason I've never been a fan of the route.  I like to think it's because of the massive streak of chalk pasting every potentially usable and non-usable hold on the route, but it could also be the big whipper I once took pumping out at the anchors on a route I felt was well within my abilities.  You take your pick.  Thanks to Stefano for the pics!