Yesterday was one of those perfect fall days you spend the entire year avoiding injury training for.  Crisp temps in the low 50s, trees just beginning to change colors and zero clouds in the sky.  In other words:  PERFECTION.  I could have spent the whole day just admiring the conditions, but that would have been a total waste.
The West Bluff has been the name of the game of late at Devil's Lake, and that's where we found ourselves for the entire day yesterday.  After a brief warm-up we met up with Steve and made our way to the so-called "Squeeze Project".  Nestled in some trees above the Slant Boulderfield, the Squeeze Proj climbs improbable slopers out a cool dihedral.  It had been attempted a few times late this summer in poor conditions, but with cool weather finally arriving this week the race for the FA was on.
After watching Steve nearly send on his first attempt of the day, Tony and I joined in the fun.  The 3 of us spent the next 2 hours throwing ourselves at the problem with varying degrees of non-success.  The crux revolves around using a poor left hand pinch/sloper and throwing way out right to a decent but hard to grab hold. The remaining moves are not especially difficult (if you can get the kneebar), but they are certainly botchable (yes, that's a word).
Tony on the 2nd move, staring at the crux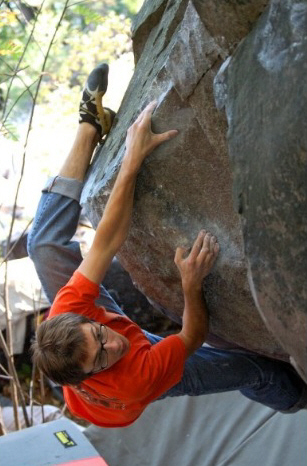 Photo:  Sarah
Fearing all 3 of us were going to end up going home empty handed, Steve stepped up and pulled out the send in impressive fashion.  Destined to become another West Bluff classic, Steve decided to call the problem Moj (pronounced like mojo without the "o") at a proposed grade of V8.  I was very pleased to capture the send on my new HD video camera, and I hope to have the footage edited soon.
Steve on the send of Moj (V8)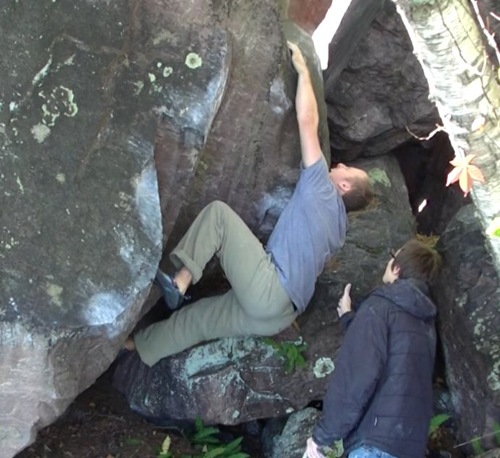 Just uphill from Moj is another classic line, Jenga (V6/7).  I was really tired from trying the project for so long, but I was intent on repeating Jenga for the camera.  Jenga climbs a cool dihedral over a very rocky landing and it's a must do, just make sure you bring pads:
In other news, I made a small Dr. Topo style topo for bouldering on the West Bluff and it should be available for free download soon!