James Litz is one of the more enigmatic and under the radar strong climbers out there, so it's not uncommon for his ascents to go unreported for months at a time only to have a report come out that leaves you pretty impressed.  This is one of those times.
Litz has been spending time this Summer pulling down on the pocketed limestone of Ten Sleep Canyon in northern Wyoming with great results.  Here is his ticklist for the Summer of 2009 courtesy of the Ten Sleep Facebook page:
Goldmember (5.14a)
Porcelain (5.14a, FA)
Private Halfenheimer (5.14a, FA)
Galactic Emperor (5.14a, FA)
The Great Pile Of Pumpkin Puke (5.14a, FA)
F'ed In The A (5.14b, FA)
General Litzenheimer (5.14c/d, FA)
Master Of The Universe (5.14d, FA)
Writing about Litz's efforts on the Petzl Blog, Alli Rainey describes what it's been like to watch Litz climb:
Thing is, though I've only known James since the middle of the summer, I've already come to expect him to casually execute the absurdly difficult, in terms of the rock climbing world. He does this regularly with such a visible lack of effort that you can just tell it's not even hard for him in any relative sense to the majority of us humans. In fact, it's so common that it's truly kind of shocking when he doesn't perform, and almost bizarrely ho-hum when he does.
Be sure to read the rest of the entry on Petzl's blog for some other funny Litz anectodes including one about how he never feels pumped.
James Litz on F'ed In The A (5.14b)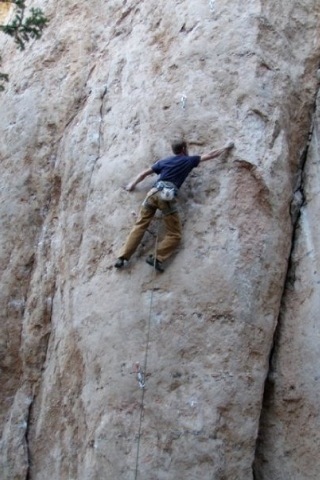 Photo:  Ten Sleep Facebook Page
To get a better feel for the climbing at Ten Sleep, check out these videos put together by Cedar Wright:  one featuring Kevin Wilkinson climbing a 5.14 and one other that has a brief glimpse of Mr. Litz.