After getting rained out in Kentucky, tearing my LCL and climbing on many fun problems in Rocktown we finished up our trip with a brief stop at Zahnd on our way out of town.  Located a short 15 minute drive over the mountain that Rocktown resides on, Zahnd is relatively small area with only a dozen or so problems listed in the topo.
Our main mission was to keep with the prevailing method of the trip, "One Shot, One Kill", and make a quick assault on the area testpiece Harvest Moon (V8).  What was to be a brief 30 minute stop to either achieve rapid success or rapid failure soon turned into a slugfest.  The crux of Harvest Moon revolves around awkwardly matching a slopey rail and making a long lunge to a slopey jug.  Already tired and out of skin from climbing at Rocktown earlier in the day, we were all coming agonizingly close to sticking the final jug with nothing to show for it despite innumerable attempts.
All of us except JT that is.  Despite throwing in the towel earlier in the day and initially not even bringing his shoes down to the boulders, JT managed to send Harvest Moon a couple of times in only a few attempts.  Nice work, sir.
After running laps on a few of the easier problems until I could barely move my arms we left for home after spending almost 2 hours at Zahnd.  Not exactly the quick effort we had in mind, but it was well worth it.  If you are looking for a stellar V8 or a few fun easier problems Zahnd is definitely a good addition to the bouldering at Rocktown.
Here are several pictures of our efforts, courtesy of Danny:
Harvest Moon – Narc, Danny, K-Rom in that order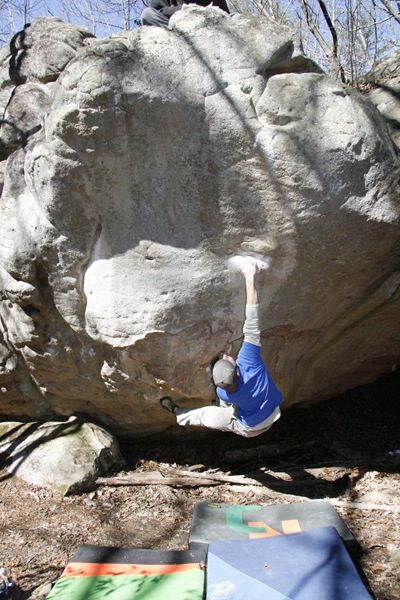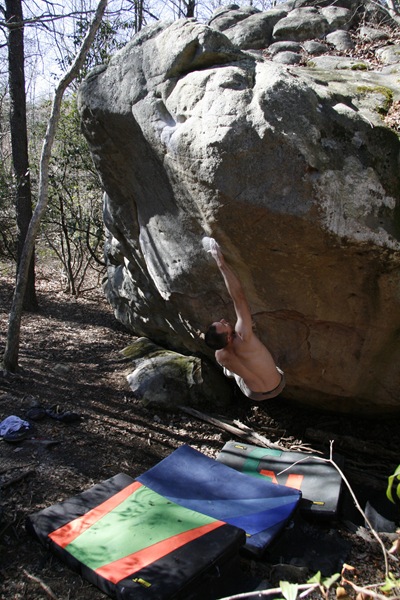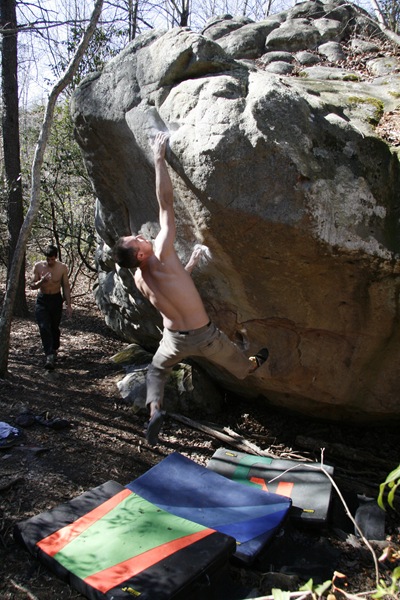 Me climbing a cool red streaked arete to the right of Harvest Moon.  Name??  Seemed like V2ish.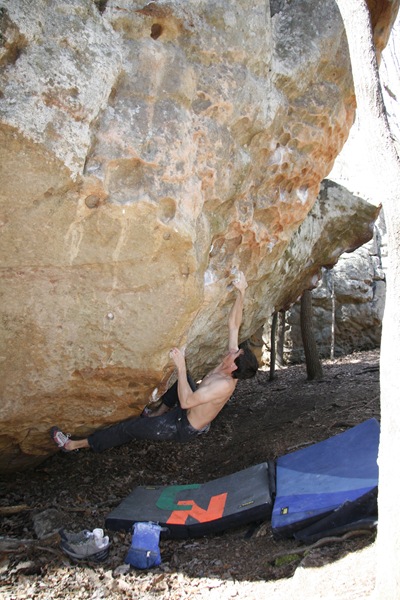 JT bear hugging the V3 Bear Hug