In my role as the Climbing Narc I do my best to bring you interesting topics on all aspects of climbing.  I like to think that I don't miss many of the more interesting things out there, but thanks to a post on The Adventurist I found while perusing the FRB Message Board I now realize I missed something really, really cool.  The post on The Adventurist highlights an article in National Geographic:  Adventure about the famous boulder problem Midnight Lightning (V8) in Yosemite's Camp 4.
The article itself is along the lines of what you would expect to read in a magazine not aimed at climbers.  It has the requisite amount of hyperbole like when photographer Corey Rich is quoted as saying, "Climbing Midnight Lightning is equivalent to running a 4.5-minute mile" which seems like a bit of a stretch to me.  It's also not entirely accurate like when Rich says that, "When Midnight Lightning was established (in 1978), it was the hardest problem on the planet".  Of course, Jim Holloway's Trice (V12) was first climbed in 1975, 3 years before Midnight Lightning.
But I digress.
The real reason I brought this up was not to nitpick the words in an article.  It's not even the high quality pictures of Tommy Caldwell climbing the problem.  The real reason is the Midnight Lightning Photosynth.
Using Microsoft's Photosynth technology*, Rich stitched together over 3500 photos of Midnight Lightning to create a quasi 3-D world that you can use to examine literally every inch of the problem.  Ever wonder how good the "lightning bolt" hold is? (Hint: it's pretty good)  Curious what the holds are like at the infamous crux mantle?  With this technology you can get a pretty clear picture of what each and every hold is like.  If you've never climbed on the problem you might be suprised to see how the holds start pretty small and get bigger as you get higher.  Using the Photosynth you can learn (almost) as much as people that have actually climbed (or in my case, nearly climbed) the problem.
Here are a few pictures that will give you an idea of how it works:
Boxes appear around hundreds of areas on the boulder that you can zoom in on to get a closer look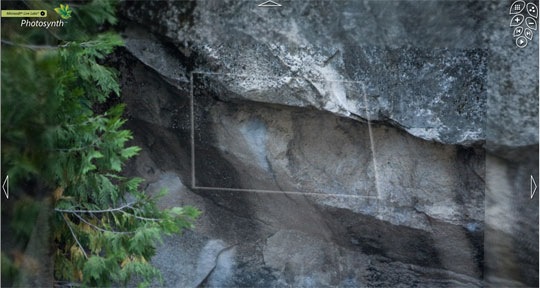 Zoomed in on the left hand start hold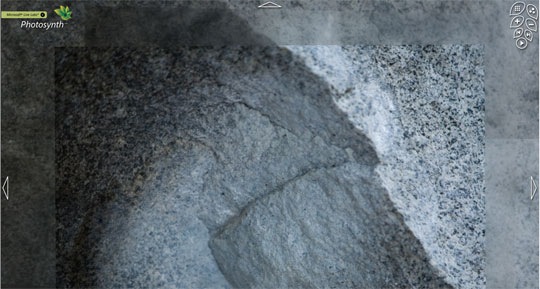 Zoomed in on the undercling you use during the crux mantle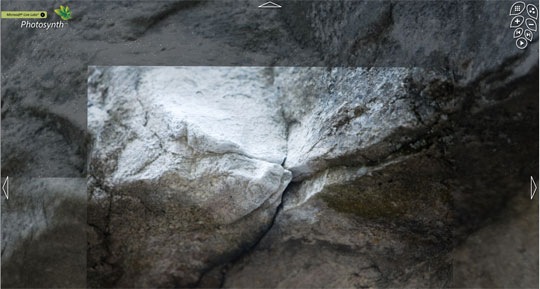 The only real negative about the Photosynth technology is that it was created by Microsoft which means you have to download and install it on your computer (followed by an annoying restart).  In most cases this would be enough to deter me from even mentioning it, but the end result is so cool that I highly recommend jumping through these hoops.
If only someone would do this for every problem I ever wanted to do, I could stop leeching beta from my friends!
*The same technology was used by CNN to capture "The Moment" Barack Obama was inaugurated, but who wants to see that when you can see every inch of a piece of rock you want to climb?  Priorities people…