The news of Josh Wharton's recent trifecta of 3 difficult bouldering, mixed and sport climbing challenges rekindled a hair brained idea I thought up last year.  For those that didn't see it, Wharton redpointed an M10 mixed route, bouldered a V10 and redpointed a 5.13 sport route all within the span of a week.  This was a completely arbitrary and contrived challenge of course, but I think it is a cool accomplishment.
The idea I had been thinking about would be to try something similar here in WI.  Since I am not a very motivated person I will probably never try it, which means I can share it here without adding any pressure.  
The Plan
My thought was that it would be cool to try and climb something hard from 3 disciplines (trad, sport, bouldering) at 3 different locations all in the same day.  The proposed plan would be to start in Necedah and climb the fantastic sport route Whiskey A Go-Go (5.13-).  After that, I would head south to Devil's Lake for the trad portion of the day.  I originally thought leading one of the 5.12's would be the thing to do in order to keep things hard, but after giving it some thought I think leading a classic Pete Cleveland route like Son Of A Great Chimney (5.11) would be more appropriate (and still difficult).  After that, I would finish up the day by cruising down to Governor Dodge for a lap on Sandstone Violence (V8).  3  areas, 3 disciplines, 3 classic hard lines.
I've already completed 2 out of the 3 steps separately (sport and bouldering), and I have been meaning to give SOAGC a try ever since I took up trad climbing so perhaps this plan could provide the motivation.  Obviously this whole endeavor is a complete contrivance, but it could be a fun test of fitness and motivation at some point.  Any suggestions of substitutes or variations are greatly appreciated.
Son Of A Great Chimney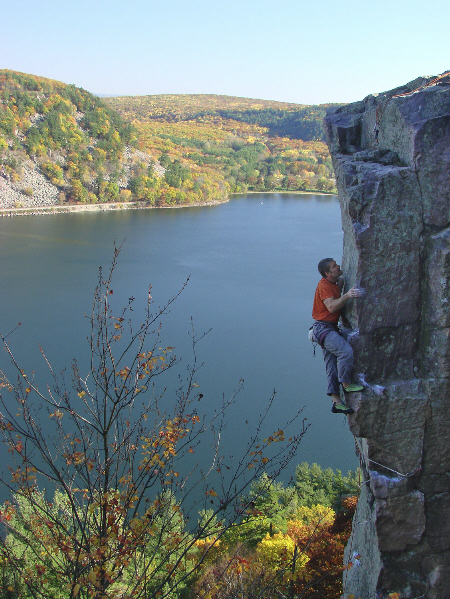 Whiskey A Go Go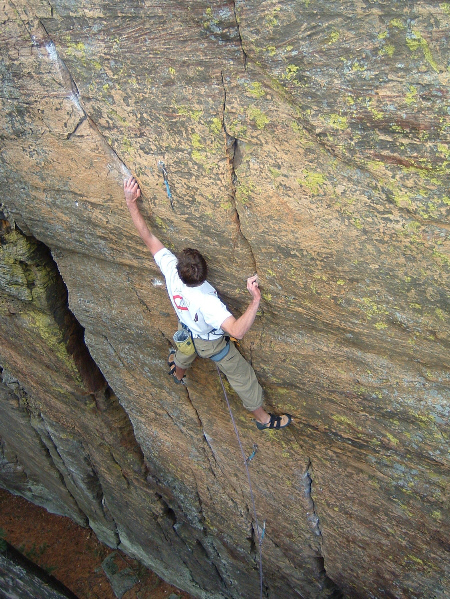 Sandstone Violence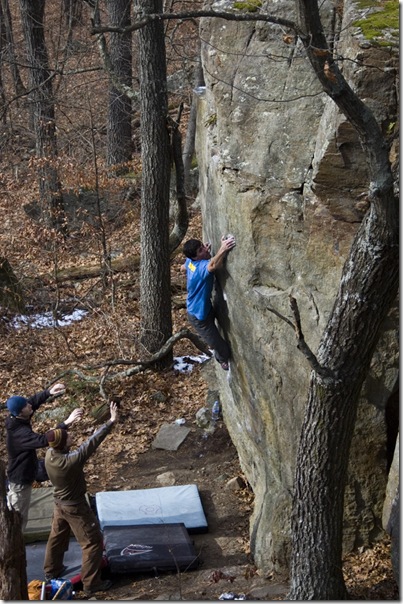 Top two pictures borrowed from Mountain Project.