This past weekend I made the trip to the Red River Gorge in Kentucky with Mrs. Narc, Kevlar and Sarah.  We all had high hopes of climbing well and having a good time at the Rocktoberfest party.  As with most things these days for Mrs. Narc and I, events  rarely go as planned (you will recall that on our last trip to the RRG we totalled our car, and our brand new replacement car was rear-ended last week!).  I think this picture does a pretty good job of summarizing how well our weekend trip to Kentucky went: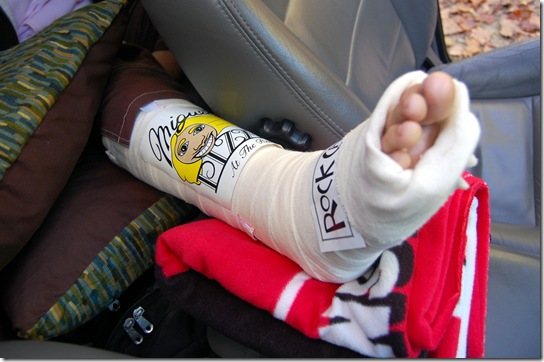 Photo: Sarah B
That's right, Mrs. Narc has broken her ankle again.  Almost a year to the day from her last boot of doom experience, she took a particularly hard fall at the top of a route that had significant enough rope drag to make it difficult for me to give her a proper soft catch.  As with her prior injury, she was penalized with a broken bone for making an extra effort instead of simply giving up.  What gives???
In addition to Kevlar and Sarah, a huge thanks to fellow Adventure Rock climbers Matt, Molly and Sarah for helping us get Mrs. Narc down the steep trail at The Zoo.  We owe you guys!  Thanks also to everyone who has already sent along their well-wishes!
I might be a bit slower than usual with updates as we try to get this all sorted out, but I hope to have some more Rocktoberfest pictures up later this week.  In the meantime, here are a couple of pictures of me catching huge air on Scar Tissue (5.12a) at The Zoo.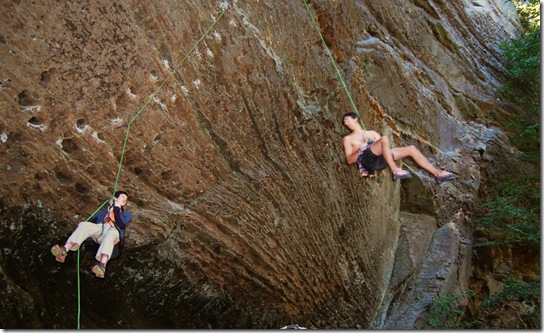 Photos:  Sarah B