As far as guidebooks go, the current edition of the "Climber's Guide to Devil's Lake" by Sven Olaf Swartling is the epitome of the phrase "it is what it is".  It is far from spectacular, what with its grainy black and white butt shot pictures and somewhat vague topos.  However, the book is pretty thorough in the routes it lists, and development at the Lake isn't exactly happening at a blistering pace so there has been no real need for a new guide.
With that in mind, I was a bit surprised to see a few weeks back that an updated edition of the guidebook was coming out in late September.  Intrigued, I decided to order one so I could share my thoughts on it with everyone.  I found a good deal on the book at Amazon.com for around $13 (You can get free 2 day shipping as well if you sign up for the easy-to-unsubscribe-from Prime service as well).  Unfortunately, I just received the following email from Amazon.com about the delivery date of the book:
Estimated arrival date: 11/05/2008 – 11/06/2008
Just in time for the Winter Devil's Lake climbing season???
Either way, here is what is new in the 3rd edition of the book:
an updated introduction by George J. Pokorny and new photographs by Eric Andre
a summary of the geologic and natural history of the Baraboo hills by Patricia K. Armstrong
locations and updated descriptions of nearly 1,800 climbs
landmark photographs from most major climbing areas
GPS waypoints, map coordinates, altimeter readings, and approach information
detailed diagrams locating climbing routes at most major climbing areas
6 new diagrams, 5 new climbing areas, and 120 new routes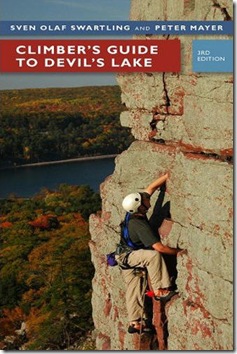 Update: The word on the street is that Wildside in Baraboo may have some books by the end of the week.  Apparently the new book does a pretty good job of clearing up some of the approach beta that is noticeably hard to figure out in the current edition of the book.  If that is the case, then this could be a pretty useful book.  I konw that I would climb somewhere other than the East Bluff if I knew that I was going to find what I was looking for.
Update 2: Wildside does have the book