If you are looking for some evidence that people can get along in this crazy world of partisan presidential politics and large financial institution collapse, look no further than the limestone walls of Rifle, CO.  Rifle is home to frequent controversies over things like ego, ethics and who can climb a route using fewer kneebars on it's featured choss limestone.   However, recent events have proven that top end climbers can get along.
The recent controversy involved a tiny red tag on a closed project.  The project, which was bolted by Andy Raether, added a hard direct start to an existing 5.14 (also bolted by Raether) at Rifle's Bauhaus crag. Having climbed most every other hard route in Rifle by last fall, Dave Graham and Joe Kinder were itching to get on something harder.  Kinder posted on his blog about how he felt the continued closure of this Bauhaus project was "degressive" for the sport of climbing.  Nevertheless, they respected the closure.
Fast forward to this summer.
Graham and Kinder were back in Rifle with the situation unchanged.  They had still climbed most every hard route worth doing in Rifle, and the project was still closed.  Apparently fed up and determined to climb the route with or without Andy's permission, they started trying it while continuing to talk things over with him. 
After some continued negotiations, the red tag was finally lifted.  According to Kinder, Andy "gernously opened the route after some intense phone conversations".  With the situation resolved, Girl Talk (5.14c) was realized shortly thereafter by Graham. 
In the 2+ weeks since Graham's FA, Girl Talk has been repeated by a who's who of elite American sport climbers (which has no doubt validated the opinions of Graham and Kinder).  So far it has been repeated by Kinder, Daniel Woods and Ethan Pringle with Pringle's repeat coming within a single day's effort.  I guess that's pretty progressive, no?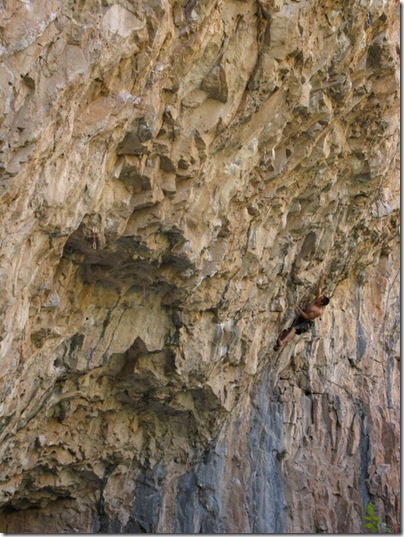 Photo:  Joe Kinder
With Chris Sharma on his way to Rifle, it is safe to assume that Girl Talk could be seeing a 5th ascent in short order.*  If you haven't heard, he is in pretty good shape.  Could a repeat of Tommy Caldwell's unrepeated Flex Luthor (5.15a?) be on the horizon?  Too bad that it is "kind of a turd" according to Kinder.  
Oh well, maybe someone will bolt something new…
Update:  Somewhat coincidentally, MVM has just posted video of Dave Graham on the FA of Girl Talk where he explains a bit about how they came to trying the route.  It sounds like Andy bolted an incredible route.
* – (Chris went to Maple Canyon instead it would appear). – Carlo Traversi did the 5th ascent instead.