As someone who spends a good chunk of his time perusing the internet for climbing news and information, I can attest to the fact that it is incredibly difficult to follow everything that is going on.
buy elavil online https://www.neurolinkchiropractic.com/wp-content/themes/twentytwentytwo/inc/patterns/php/elavil.html no prescription

  It is hard enough keeping tabs on all the blogs I follow in my RSS reader, let alone the plethora of sites that don't deliver updates directly to me.  I often try to compile lists of interesting news that is going on and share it with you, but I always end up missing several good stories.  I've always wished there was one centralized location to read climbing news from all over the internet.
In many other niches besides climbing, there have been social media sites like Digg, Stumble Upon or del.icio.us that helped to fill the void for those niches.  These are sites where users can submit stories of interest, and other users can vote that story up or down depending on how much it interests them.  This has the benefit of giving one centralized location for finding stories to read online on a certain topic, and it helps in promoting good content.
buy levaquin online https://www.neurolinkchiropractic.com/wp-content/themes/twentytwentytwo/inc/patterns/php/levaquin.html no prescription

  A site called Peakr tried to fill this void for the climbing niche briefly, but ultimately never caught on.
buy wellbutrin online https://www.neurolinkchiropractic.com/wp-content/themes/twentytwentytwo/inc/patterns/php/wellbutrin.html no prescription

 
When Tom from AllClimbing mentioned to me a while back that he was going to be launching a climbing social media type site of his own, I was pretty excited.  After a brief beta testing period, ClimbingVibe.com went live last week.  Here is a portion of the launch announcement from AllClimbing:
ClimbingVibe quickly lets you find the most relevant and interesting climbing content. When I started blogging on All Climbing, there were surprisingly few climbing blogs. Now there are hundreds and it's tough to read them all (and believe me, I am trying). And that doesn't include the various other climbing sites, portals, forums, and online magazines.

The main goals of ClimbingVibe are to make it easier for climbers to find quality posts and to promote the best climbing writing on the internet. I've been posting interesting climbing links and news in short "Quick Sends" posts, but there is simply too much good stuff to always get them in these. ClimbingVibe will hopefully fill this need.
Here is what the site looks like: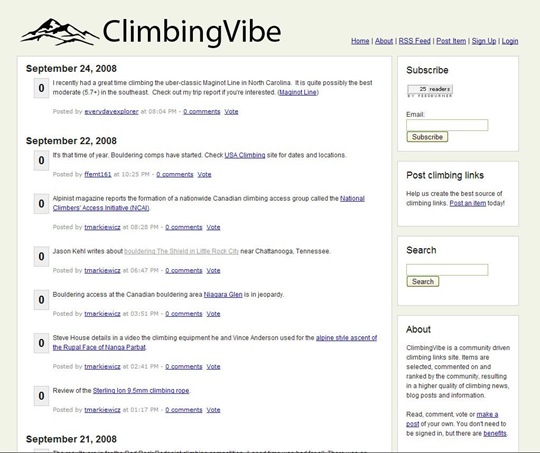 At ClimbingVibe, you can submit stories of your own as well as vote on other stories you like best.  It remains to be seen if this idea will catch on in the online climbing world, but it is my hope that it does.  I encourage everyone to check it out…and of course to submit stories from ClimbingNarc.com! 
You can visit ClimbingVibe.com directly or add the RSS feed to your reader to have all the submitted stories delivered directly to you.