The summer bouldering season of 2007 was one for the record books in Rocky Mountain National Park.  It seemed like every week a new double digit problem was being established or repeated en masse.  Back in early May of this year, I had a post of RMNP bouldering videos where I predicted that the summer of 2008 would be one for women to shine in the alpine areas of CO.  So far they have not disappointed at all with three different women making the first female ascents of 3 V12's.
Starting things off was Alex Johnson, who made a fast 1 day ascent of Clear Blue Skies (V12) at Mt. Evans.  Originally considered by many to be V13, such a quick send of this problem was impressive to say the least.  Look for footage of her climbing this problem soon on the newly "freed" Momentum Video Magazine.
Next up was Alex Puccio, who dispatched her project The Marble SDS (V11/12) at RMNP.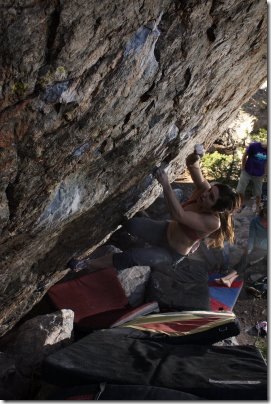 Photo:  Carlo Traversi
And just last night, Angie Payne finished her multi-year project European Human Being (V12) in RMNP.  Considered by Jamie Emerson to be one of the harder V12's in the Park, Angie's dedication finally paid off with a much-deserved send.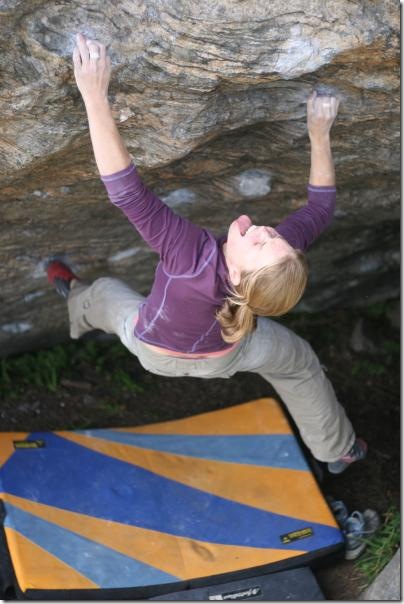 Photo:  Ryan Olson
This brings the list of American women who have climbed V12 to 7 as compiled by Jamie Emerson (and supplemented by me):
Ana Burgos: Chablanke (Hueco), Sarah Sit (Hueco), Mo mojo

 (Hueco)

Lisa Rands: Nutsa (Rocklands), The Mandala (Bishop), Chablanke (Hueco), Sarah Sit 

(Hueco)

Angie Payne: Chablanke (Hueco), Atomic Playboy (Font), European Human Being (RMNP)
Ashley Lloyd: Super Kind (RMNP)
Jody Hansen: Chablanke (Hueco), Rumble in the Jungle 

(Hueco)

Alex Johnson: Clear Blue Skies (Mt. Evans)
Alex Puccio:  Marble SDS 

(RMNP),

A Maze Of Death

(Bishop),

Trice

(Flagstaff Mt.),

Clear Blue Skies

(Mt. Evans)

Lynn Hill:  Chablanke (Hueco)
The days of women climbing V12 being a regular occurrence is here which means that V13 must be right around the corner.   Hopefully this means that the days of FFAs being a big deal are on their way out, and we can come to report the achievements of women climbers on the same level as those of the men.