…no joke.  Last summer they spent their time tearing up RMNP and climbing hard double digit problems in circuits like it is nothing.  This summer they have taken the show on the road with Paul in South Africa and Ty in Europe.
Switzerland
In Branson, Switzerland (not Branson, Missouri) Ty Landman recently made a visit to pay homage to the first V13 (La Danse des Balrogs) and first V14 (Radja) in the world both established by Fred Nicole in the 90's.  Surprising for Ty, but not for outside observers, he made quick work of both problems in the course of one evening session.  You can read more about Ty's  his efforts in Branson as well as is recent repeat of New Base Line (V14) at the Moonclimbing blog.  You can also read about his first V13 flash of a problem called Cullinan in Valais as well.
Ty Landman climbing New Base Line in Switzerland's Magic Wood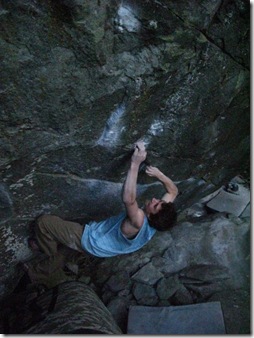 Photo:  Ty Landman/Moonclimbing
Despite being such an area of historical significance, I couldn't recall ever coming across much media on what the climbing was like in Branson so I did some digging.  Apparently it is quite a small area with really only this one bloc holding both La Danse… and Radja.  Via Joost, check out Sebastian Spauwen climbing La Danse des Balrogs to get a better idea of what things look like in Branson.  Here are a few photos as well:
A few photos of a climber on La Danse des Balrogs, the world's first 8B boulder (climbed in 1992)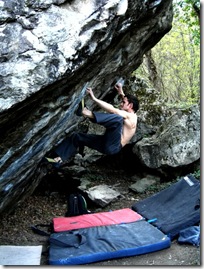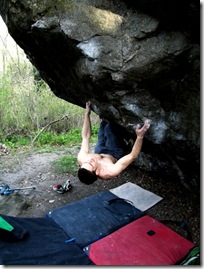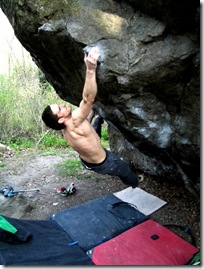 Photos:  Uncle Somebody
South Africa
After a slow start hampered by rain, things in South Africa have started to heat up.  Paul recently repeated Fred Nicole's V15 Amandla in under 2 hours.  Other notable sends include Mooiste Maise (V14), Madiba (V14), The Power of One (V13), Green Mamba (V13), Ray Of Light (V13), Armed Response (V13), Black Shadow (V13) and a flash of Oral Office (V12/13).
Paul Robinson climbing Mooiste Maise (V14)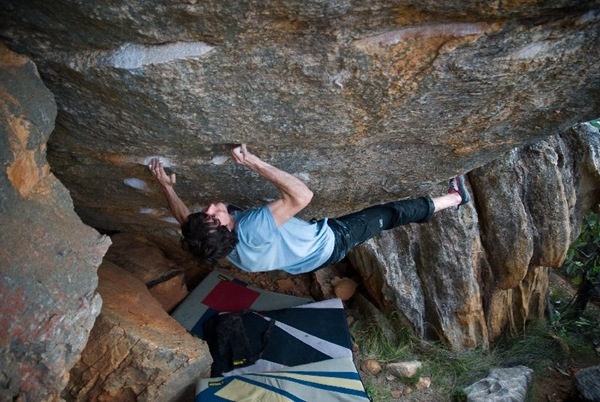 Photo:  Andy Mann
Unfortunately both Paul and Daniel Woods are under a self-imposed scorecard updating ban, however Paul has posted a brief list of sends on Five Ten's website.  Check out Andy Mann's latest pro blog for some updated photos and be sure to check out the this Fall's Reel Rock Tour for South Africa bouldering footage from Big Up.