Today marks the 2 Year Anniversary of the day Mrs. Narc and I got married.  Right around the time we got married I finally convinced her to try climbing, and she hasn't slowed down (much) since then.
When thinking of what to get her for our anniversary, I didn't have to think long before I came up with the perfect answer.  Inspired by Sock Hands, I decided to finally get Mrs. Narc her very own Organic Bouldering Mat.  Behold the custom creation made just for her: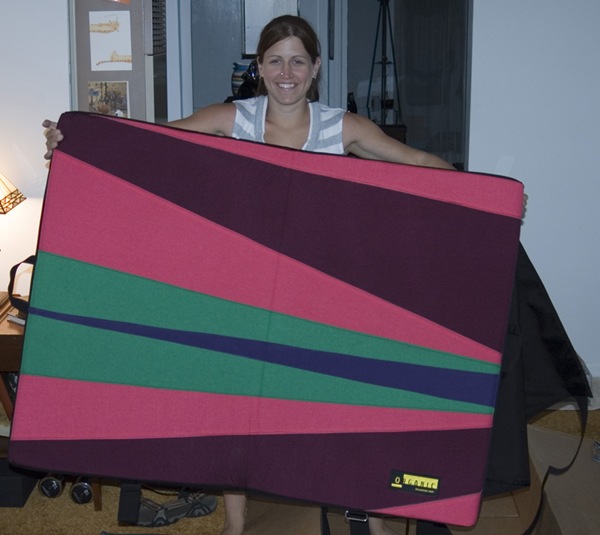 Not to be left out in the cold, Josh Helke at Organic was nice enough to hook me up with two items that I needed very badly:  brand new chalk bags!  One for routes and one for bouldering: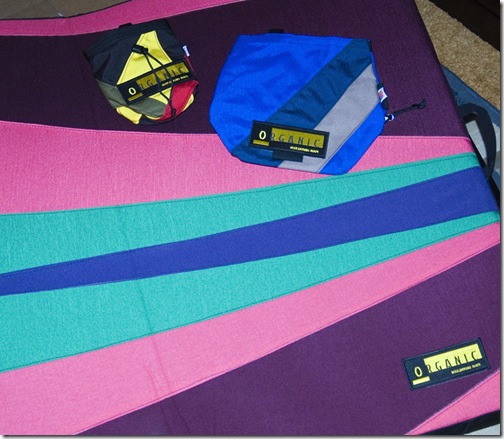 The entire ordering process was very smooth and I can't thank Josh enough.  If looks are worth anything, all 3 items are pretty stellar.  As for their functionality, we will be putting them through their paces in Yosemite next week and I will report back after that.
Mrs. Narc also hooked me up with a new sleeping bag and a nice daypack!  Sweet action…
Tonight we are going to see C.C. Sabathia's first game as a Milwaukee Brewer and then Thursday night we are off to California for 11 days!  Maybe life isn't all that bad after all!