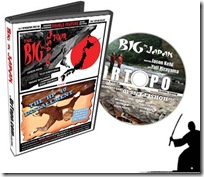 Dr. Topo has been around for a long time now providing quality mini-guidebooks and videos free of charge. It was just a matter of time, but they recently released their first DVD: The Big In Japan Double Feature.
People that have been following Dr. Topo for a long time will recognize much of the content on the DVD; however, that shouldn't deter you from considering picking up a copy for yourself.
As the title suggests, the DVD is a double feature of bouldering in Japan and bouldering at Horse Pens 40 in Alabama. Rather than try to recap for you what all is featured on the DVD I would encourage you to check out the promo page they have that gives you a very specific idea of what you will be getting on the DVD. Here is the trailer:
[youtube=http://youtube.com/watch?v=ORs3WPYu708]
I thoroughly enjoyed both features of the DVD, and I was surprised to find that each feature was packed with extras that you don't normally see. Each one has several short extras in addition to the main feature, and there is extensive audio commentary for the entire DVD that I don't believe I have seen on any other climbing movies. Unlike some movies where climbers talking is generally not a plus, the commentary on the Dr. Topo DVD is actually a net positive. It's funny, informative and to the point.
You can order a copy of the DVD for $30 shipped at the Dr. Topo store. I would recommend this movie to anyone that would enjoy seeing the diverse and distinct bouldering areas in Japan or if you are a fan of the bouldering at HP40. It is also a great movie if you are interested in gleaning beta on just about all the V8's at HP40!
Thanks to the guys at Dr. Topo for providing a free copy of the DVD for the recent tournament we had as well as providing a copy for review.