I was discussing my FRB interview with someone at the gym a while back.   This person mentioned that he took exception to the part in the interview about how my climbing partners viewed me as a partner.  If you need a reminder, here is what I said:
They might disagree but I like to think that I am a pretty fun person to climb with. If nothing else, I am usually good for several laughs throughout the course of a session. Lately I like to think I have been a more motivating person to climb with as well
This person brought up several instances where I was not the best partner, mainly owing to my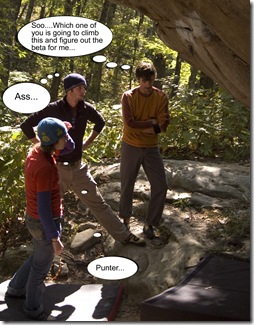 tendency to whore my partners out for beta.  Unfortunately, I had to agree.  See if the below scenario sounds familiar.
It goes something like this:  you arrive at a boulder with your crew; you spend an inordinate amount of time warming up, resting and taking photos; you spend this time watching your crew getting bouted by a problem and soak up their beta; once they are sufficiently frustrated you flash said problem right in their faces.
Not cool, right?  Well, that pretty much sums up my OLD way of operating.
buy zydena online https://royalcitydrugs.com/zydena.html no prescription

  In my defense I wouldn't say that I did it on purpose.  It was usually only a matter of time before my next debilitating injury so I felt compelled to use whatever method allowed me the greatest chance of adding to my 8a spraysheet…
buy singulair online https://royalcitydrugs.com/singulair.html no prescription

or something
I'm interested in hearing what others think about this situation.  Also, if you have more evidence against me that you would like to weigh in with, please feel free to do so.
[poll id="74″]