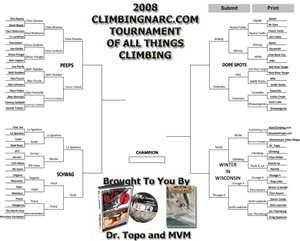 After almost 6,000 votes, we are down to the Regional Finals of the 2008 Climbingnarc.com Tournament Of All Things Climbing.  Dave Graham came the closest to pulling off an upset in his Round 3 Matchup with Chris Sharma, but opening a new V15 in Font was not enough apparently.
Here are the links for Round 4 voting:
Peeps Region Final
Dope Spots Region Final
Schwag Region Final
Winter in Wisconsin Region Final
Voting for Round 4 will close the evening of Wednesday April 16th.
Previous Rounds Results
Peeps Round 1

Dope Spots Round 1
Schwag Round 1
Winter in Wisconsin Round 1
Peeps Round 2
Dope Spots Round 2
Schwag Round 2
Winter in Wisconsin Round 2
Peeps Round 3
Dope Spots Round 3
Schwag Round 3
Winter in Wisconsin Round 3