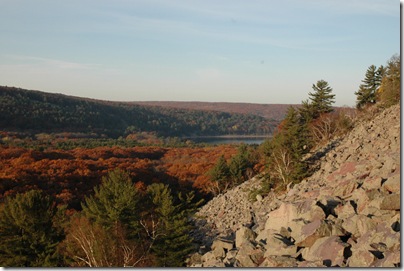 With Spring rapidly approaching and me having a cast on for the foreseeable future, I figured what better time than now to go over a ticklist of 50 or so routes that I wanted to lead at Devil's Lake. I put this list together last fall after a spectacular outing with Danny got my juices flowing for a big Spring season. Hopefully this won't turn out like the last list I created and never managed to try any of the routes listed.
Many of the harder routes were selected solely on MountainProject.com descriptions and Eddie A. recommendations. I tried to shy away from routes that had death cruxes. Spice is nice, broken bones are not. Any comments on additions or subtractions please comment below. Especially needed at this point are quality 5.4 and 5.5 routes for my rehab endeavors. An x marks a completed route.
5.4
Queen's Throne – x

5.6
Foreplay – x
Full Stop – x
Berkeley – x
Brinton's – x
Schizophrenia
Push mi, Pull yu – x
Cleo's Needle
Coatimundi

5.7
Charybdis
Thing left of charybdis
Primak's Surprise – x
Via Pia – x
Lost Face – x
Peter's Project – x
Reprieve – Left of Full Stop
Everleigh Club Crack- x
Wiessner's Face

5.8
Curving Crack – x
Chicago – x
Roger's Roof – x
Birch Tree – x
Cul de Sac – x
Debauchery
Brinton's Direct
Orgasm
Birthday Crack
Breakfast of Champions
American Beauty

5.9
Upper D
Eave of Destruction
Wobbly Dihedral
Route that Chris Led at OS

5.10
Sometimes – x
Congratulations – x
Big Deal (Straight up Full Stop)
Flakes Route
Dancing Madly Backwards
Cheetah
Sometimes Direct
Callipigeanous Indirect
Watermarks
Watermarks Direct
Alpha Centauri
Sometimes Right Side
Gargantua

5.11
Vivisection
Happy Hunting Grounds
Callipigeanous Direct
Thoroughfare
Son of a Great Chimney
Coup d'etat
Orgasm Direct
Laundry Chute??
Flatus

5.12
Steak Sauce
Donkey on my Mind
AAA
All the Way??