Thanks to the reader with the semi-inappropriate screen name that sent me a heads up on this article.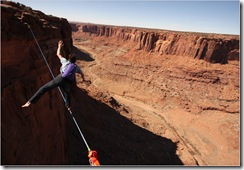 Climbing has hit the front pages of The New York Times…sort of.  Controversial climber, slack liner and BASE-jumper Dean Potter has a big article on his latest non-climbing adventure:  a combination of highlining and Base-jumping.  For those that don't know, highlining is slacklining done at ridiculous heights with a tag line used for safety.
The article has video of him attempting to highline across a 180 ft. chasm in Moab, UT using nothing but a BASE-jumping parachute in the event that he has to bail, no safety lines whatsoever.  Here's a bit of a spoiler:  he has to bail.  Check out the article as well as the videos below showing various other Dean Potter exploits.
Dean Potter speed soloing the Nose on El Cap
[youtube=http://youtube.com/watch?v=fwV5t7IgCHI]
BASE-Jumping at the Go Fast Games
[youtube=http://youtube.com/watch?v=CfPzC0d4C38]
Highlining in Yosemite I believe, with no protection
[youtube=http://youtube.com/watch?v=90xfWYnz9KM]
20 Feet off the ground slacklining in Germany
[youtube=http://www.youtube.com/watch?v=dJkcbHlgY3A]
Dean Potter climbing in Moab, UT
[youtube=http://youtube.com/watch?v=M_BWaIWB9hs]
[youtube=http://youtube.com/watch?v=FZir3n6q5b4]
An interview with Dean Potter and Steph Davis
[youtube=http://youtube.com/watch?v=_3UiqkeruQg]