With great anticipation, the Petzl Roctrip at the Red River Gorge in Kentucky officially began Friday, October 12 but it turns out the real action went down earlier in the week.
On Thursday, Canadian Sean McColl made one of the hardest flashes on US soil when he did Dave Hume's Thanatopsis (5.14b) on his first go. Mike Doyle, who climbed the route very quickly last fall, gave him the move by move beta that allowed him to stick the low percentage crux moves first try. About an hour after flashing Thanatopsis, Sean onsighted his first 5.13d when he did White Mans Shuffle on his first go as well (no beta shower this time). Sean also made time to send an open project at the Bob Marley crag which he called MILF Money (5.13b). So far, MILF Money has already seen at least 5 quick repeats.
Sean McColl flashing Thanatopsis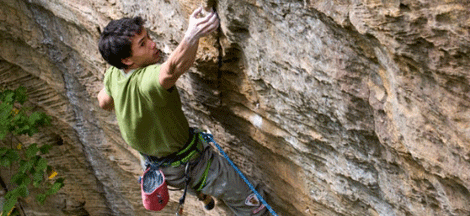 Photo:  Steve Woods 
The big news on Friday had to be the FA of the very longstanding project Fifty Words For Pump at Bob Marley by Mickael Fuselier. Fifty has been one of the longest open projects at the Red and has been tried by several strong locals to no avail. This route was also one of the bounty routes which means that Mickael's send netted the RRGCC another $1000! The notoriously difficult to clip 4th bolt
Not to be forgotten, the women also had work to be done in order to help raise money for the RRGCC and they didn't disappoint. Emily Harrington sent Ultraperm (5.13d) which happens to be right next to Fifty at Bob Marley. Liv Sansov and Mariette Uhden sent the women's "Ultimate Route" No Redemption (5.13b).
Saturday was the much anticipated Flash Rally comp at the Motherlode. Steve McClure nearly onsighted Transworld Depravity (5.14a), Mickael Fuselier did a backflip after redpointing Transworld and tons of other hard climbs were done with huge crowds on hand to watch. Overall winners were:
Petzl Women: Emily Harrington

Petzl Men: Steve McClure and Said Belhaj

Open Women: Kasia Pietras

Open Men: Future Roden
Here are a few other quick hitters from the Roctrip:
Daniel Du Lac did the first ascent of El Encuentro at Bob Marley and proposed a grade of 5.13b.

Mike Doyle finally redpointed Dogleg (5.12a) which netted $500 for the RRGCC. Why is this noteworthy for a 5.14 climber? Dogleg is well known for some insane reaches and Mike is shorter than 5'5″ making the moves quite difficult.

Word on the street is that some of the big names (Sharma, Graham) skipped the big Flash rally at the Lode on Saturday.

A new, difficult trad line was put up at the Chocalate Factory on Sunday. The line goes around 5.13a/b and is called Charlie. You can read the full story and see pictures of the route at Mike Doyle's blog. From the sounds of it, it is still awaiting an ascent placing gear on lead.

No word on anyone trying to repeat Mike Doyle's new route Lucifer (5.14c). What's up with that??

You can see some more pictures of the event by clicking here.

Click here to read Lynn Hill's thoughts on the weekend.
Overall the Petzl Roctrip Red River Gorge was a huge success. It was announced by organizers Bentley Brackett and Morgain Sprague that the event raised enough money to pay the mortgage on the PMRP through 2008!