I am just about recovered from last weekend's trip to the Red. Also, I am slowly getting everything in order with this new site and so far I am liking it a lot better. Next week the usual doses of information should return. A few words on last weekend's trip:
When I was younger (5 years ago) I almost always went to the Red in the Summer as opposed to Spring/Fall because Summer was the time when I had the greatest amount of free time. Anyone that has been in Kentucky in the middle of July or August knows how uncomfortably humid it can get. Despite the fact that I was more or less in charge of a group of 14 other people, there were only two things that really concerned me going into the trip: the weather and which crags to climb at.
The night we arrived I thought my worst fears had been realized when the humidity was so completely oppressive it was almost like being in a rain forest. Thankfully, a quick 30 minute rain overnight swept away enough of the humidity to bring it down to a level that we were more accustomed to (90%?). This left choosing the right crag as my only remaining obstacle.
If there is one thing the Red lacks (like many sport climbing crags) is a plethora of areas filled with quality, easy sport climbs (5.10- and under). So my task was to find a crag that would fill these route requirements while also being in the shade.
The first day I had it in my head that we should check out this newer area in Muir Valley called the Bone Yard. I had never been there, nor did I remember to print out a topo or list of routes. Luckily, my hunch was correct and it turned out to be a great area to bring a larger group, and it was in the shade all day. While the routes didn't look to be the greatest quality rock or moves, it provided a really good day of climbing for everyone. I also learned that it was possible for someone to bolt a 60-70 foot route with something like 12 bolts plus anchors! Anyways…
The Bone Yard also happens to be located adjacent to a new crag Midnight Surf that has been getting a lot of hype online. I'm not sure if I wasn't understanding the descriptions of the wall or not but I have to say I was a little underwhelmed at first. I walked up expecting a huge amphitheater type area, a la the Motherlode, with many routes but it was really just one wall with a few routes. After getting over my initial disappointment I saw what the hype really has been about. The routes at this wall are truly spectacular! Most routes there feature big, burly climbing on good holds out an ever-steepening roof. Made me wish I was able to climb pretty bad. Being that I did not climb at all that day I had to base my impressions off of watching others on the routes and listening to what they have to say, but it was really cool. Routes like Cell Block Six (.12c) and Iniquity (.12b – boulder problem at start looked sick hard though) look destined to become classics for any area at the Red.
Main wall at Midnight Surf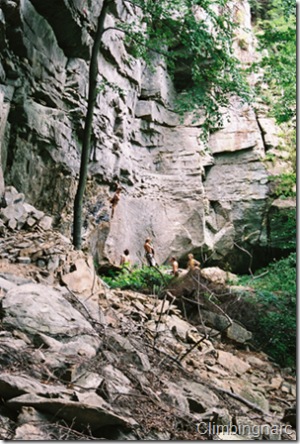 The second day we got an alpine start (wake-up 5am CST) to beat the crowds that can form at Left Flank. I finally dusted off my gear and cleaned up an old "project" of mine, To Defy The Laws Of Tradition (.10a) which I had botched the last 5 feet on several years back. It didn't really do much for me but everyone else was pretty psyched on the route. The route that did do a lot for me was called Face Up To That Crack (5.8-). While not all that difficult it was really rather memorable. It is characterized by 10 feet or so of crack climbing at mid height that used to be protected by a bolt, but it has been turned into a "mixed" route after the bolt(s) were chopped. Really cool climbing and not all that unsafe if you just run it out and don't put a piece in the crack. After lunch we cruised over to Military for a bit and I was able to work in a lap on Fuzzy Undercling (5.11-). Sadly the base of the wall is becoming incredibly eroded due to the insane popularity of the wall and the poor soil quality. I can just barely reach the start holds now and I am 6'2″!
The last day was a nice relaxing day at Roadside. Roadside doesn't get much respect from most of the people I climb with, but I strongly disagree. For me the routes there are some of the best I have done at the Red. This might be due to the fact that Roadside is basically the only crag where I have actually done anything. I didn't really do too much that day, but it was cool to see Tony clean up Ro Sham Po (5.12-) in fine style (way to do me a solid Tony).
And just like that the trip that took many months to arrive was over in the blink of an eye. For me the real highlights were probably not even climbing related. For example, we spent Saturday night getting our square dance on with the locals at Hoedown Island in the Natural Bridge State Park. I wasn't on board with the idea of going but the kids talked me into it and I actually had a good time dancing…hard to believe, but true. If you are ever in the area you should strongly consider attending. If for nothing else than to watch the locals get their swerve on.