I was organizing some magazines on my desk last night when I came across this issue of Climbing Magazine from October of 2006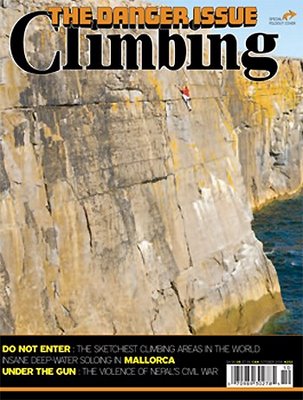 Climbing #252
On the cover is Michael Reardon freesoloing his way up a cliff face along the coast of Ireland. More tragic irony for an already ironic situation.
Seeing the magazine cover reminded me of an article Reardon had written with Matt Samet for Climbing.com about people that have decked while soloing. Below is an excerpt about a fall that Michael survived, but you should really read the whole thing.
While comfortable on the sloper high off the deck, I decide to add some spice, and dyno past the next two holds to the finishing jug of the crux. Just as I cut my feet loose, the hold — that "bomber" sloper — breaks. Seconds turn into hours as I watch the grip dissolve, and then spy the landing: large cobbles and upward-pointing spikes. Visons of wheelchairs and coffins flash by. I madly helicopter my arms and twist my legs.

While I'm falling, I notice a small scar on my finger. Instead of friends and family, the memory floodgate opens on two Chihuahuas battling over a bone and me reaching in, at age 10, to break it up, garnering a bite on the finger. I recognize the absurdity of the memory, and one last bark announces my landing.

My right foot hits first, between the cobbles, and I know I will live. I wish I could freeze that moment forever. It has that most incredible rush of all emotions — the joy of hearing your child's heartbeat for the first time, the hypersensitivity of losing one's virginity, and the sadness of burying your loved ones. Everything.

My body crumples as I crater. My face slams into my right knee, cracking my cheekbone and blurring my vision. My left foot strikes a spine-breaking cobble and pops. My left wrist slams into the ground, snapping loudly. A small oak branch stabs my palm. My kidney takes a hit that has me pissing blood for the better part of two months.

As I hobble out of there, helped the two miles to the car by Peter and a splintery walking stick, I reflect on the accident. The fall resonates louder than just a fall. It was a series of moments, each with its own terrible effect. There was the pre-fall build-up, when I floated the climb. Then, the slip, a moment of panic and regret and disbelief when the hold snapped. The fall itself. Next, the impact, that damnable impact. And, finally, the aftermath: five trips to the doctor, four shots of cortisone, 10 months of physical therapy, and several thousand dollars in medical bills.
Finally, here is a photo that was featured in the aforementioned issue #252 of Climbing Magazine of Reardon freesoloing Uncle Remus (5.11b) in Joshua Tree. Click the picture to download a wallpaper for your computer.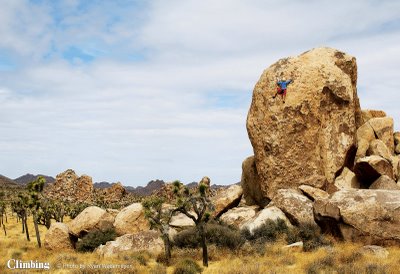 Photo by Ryan Wedemeyer