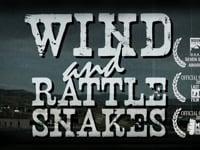 [vimeo http://vimeo.com/78859472 w=980&h=551]
| Video Source | ClimbingNarc Video Page
Wind & Rattlesnakes records the amazing story of how a cadre of world-class climbers was drawn to Lander, Wyoming by its unique geology and uncrowded climbing opportunities. The vagabond adventurers found more than just rocks, they found a home; and Lander, a quiet ranching and tourist town, evolved into one of the most welcoming climbing communities in the world.

Download the film for free with the link below and then if you like the film or like climbing in Lander, consider giving a donation with the tip link. All donations made will go directly toward supporting Lander's International Climbers' Festival (http://climbersfestival.org/) and our Bolt Anchor Replacement Fund (BARF - https://www.facebook.com/landerbarf).

Feel free to comment here or send questions/feedback to kyleduba@gmail.com

Thanks for watching!

This film was made possible by: The International Climbers' Festival, The National Outdoor Leadership School, The Todd Skinner Program, The Wyoming Humanities Council, and The Wyoming Cultural Trust Fund.
Related Videos
Posted In:
Sport Climbing
Tags:
Featured
Areas:
Sinks Canyon
,
Wild Iris
,
Wolf Point