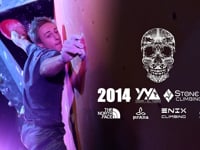 [vimeo http://vimeo.com/111158258 w=980&h=551]
| Video Source | ClimbingNarc Video Page
The Yank-n-Yard returns for the 17th year, hosted at Stone Age Climbing Gym's brand new 23,000 square foot facility in Albuquerque, NM. This community driven climbing competition continues to bring together the climbers of the southwest as well as providing a proving ground for climbing's elite athletes. The evolution of the Yank-n-Yard has brought many changes over it's nearly two decades of history and this year was no different. Putting our own twist on tradition, the event was themed after the Mexican holiday of Dia De Los Muertos. Painted faces filled the gym as 200+ competitors each achieved personal victories and met challenges during the youth and citizen's portion of the event.

After Friday's qualifying round, the top six men and women competed for a share of the $5,000 cash purse in the finals round of the open category on Saturday. Local stars went head to head with some of the nation's strongest climbers in front of a crowd that packed the house. Needless to say, the crowd wasn't disappointed and witnessed some of the most impressive on-sights Stone Age has ever seen. The men's category was dominated by Carlo Traversi who was pursued closely by Matty Hong and Austin Geiman. The young and talented Ben Hanna, Aidan Mike and Gareth Bonn filled out the men's category. In the women's category new comers to the Yank-n-Yard Juliana Price and Emily Cole followed Abby Czajkowski who was defending her 3rd place title from 2012. Alex Johnson was able to snag several zone holds overthrowing Abby and moving into 3rd place. The real rivalry however was between Alex Puccio and Megan Mascarenas who tied in the final round. In a bold and noble gesture, Alex challenged Megan to a super final to decide a victor instead of relying on a count back to the qualifying round which would have granted her the podium. Megan capitalized on her opportunity and took 1st place, beating Alex on the super final problem.

We invite you to share in the excitement of the Yank-n-Yard through this film highlighting the competition's best moments and keep an eye out for another spectacular event in 2015.
Related Videos
Posted In:
Bouldering
,
Competitions
Tags:
Yank-N-Yard
Climbers:
Alex Johnson
,
Alex Puccio
,
Carlo Traversi
,
Matty Hong
,
Megan Mascarenas