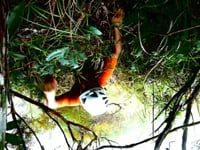 [vimeo http://vimeo.com/33888820 w=980&h=551]
| Video Source | ClimbingNarc Video Page
After managing to climb the unclimbed north Dragons's Horn, we rested for a few days and then headed up for a new route on the steeper and more impressive South Dragon's Horn. Follow Lucho and I as we establish one of the Best Climbs of Our Lives!

Big Thanks to Tanoshi Lodge for feeding us and housing us during the adventure.

If you find our adventure compelling or entertaining, please donate even just a dollar in the name of our climb to Big City Mountaineers, so that urban teens can get the chance the get out on their first wilderness adventures! summitforsomeone.org/main.php?page=4&climber=8058

Special thanks to The North Face who is matching dollar for dollar the first 4000 we can raise for Big City Mountaineers, and Five Ten, Blue Water Ropes, Clif Bar, Backcountry.com, and Black Diamond for their additional support.

Hopefully you are inspired to get after an adventurous dream of your own creation. Much Love for the Journey!

Cedar.
Related Videos
Posted In:
Traditional Climbing
Climbers:
Cedar Wright